01-02-2013 | Original Article | Uitgave 1/2013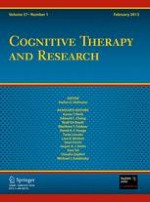 The Role of Beliefs About Mood Swings in Determining Outcome in Bipolar Disorder
Tijdschrift:
Auteurs:

Fiona Lobban, Ivonne Solis-Trapala, Elizabeth Tyler, Claire Chandler, Richard Keith Morriss, ERP Group
Belangrijke opmerkingen
The ERP group comprises: Claire Chandler, Carrol Gamble, Peter Kinderman, Fiona Lobban, Richard Morriss, Sarah Peters, Ellie Pontin, Anne Rogers, Bill Sellwood, Lee Taylor, Elizabeth Tyler, Caroline Williams.
Abstract
This study explored the impact of beliefs about mood swings on symptomatic outcome in bipolar disorder (BD). Ninety-one people with BD completed a Brief Illness Perception Questionnaire at baseline. Outcome was measured using weekly measures of mood and time to relapse over the following 24 weeks. Beliefs about the consequences of mood swings [Hazard ratio (HR) = 1.38, 95 % CI = (1.07,1.77)], perceived symptoms associated with mood swings [HR = 0.75, 95 % CI = (0.59,0.95)], and emotional concern about mood swings [HR = 1.30, 95 % CI = (1.04,1.61)] had statistically significant effects on hazard of relapse, while beliefs about the consequences of mood swings [Odds ratio (OR) = 1.24, 95 % CI = (1.01,1.52)] and the amount of personal effort individuals believed they were making to get well [OR = 0.82, 95 % CI = (0.67,1.02)] had important effects on weekly LIFE scores of depressive symptoms controlling for baseline depression, mood stabilizer medication and number of previous bipolar episodes. In conclusion, beliefs about mood swings had important effects on weekly fluctuations in depression severity and time to relapse.