01-07-2007 | Original Article | Uitgave 5/2007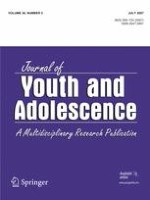 The Relative Importance of Mothers' and Youths' Neighborhood Perceptions for Youth Alcohol Use and Delinquency
Tijdschrift:
Auteurs:

Hilary F. Byrnes, Meng-Jinn Chen, Brenda A. Miller, Eugene Maguin
Belangrijke opmerkingen
NIAAA Postdoctoral Fellow and Associate Research Scientist at the School of Public Health, University of California, Berkeley, and the Prevention Research Center, Pacific Institute for Research and Evaluation, Berkeley, CA. Her research interests include psychosocial and environmental factors influencing youth problem behaviors.
Interests are interventions for children with substance use or externalizing problems and their families.
She is currently conducting alcohol, drug and other risky behavior prevention studies that include a focus on young adults in club settings as well as a variety of different family-based studies in different geographic regions (San Francisco Bay Area, Alaska, Thailand).
Her work integrates both quantitative and qualitative research methods and centers on alcohol and other drug use, and related health issues among adolescents and young adults. She is especially interested in applying theoretical models of socially learned behaviors to populations with different cultural and social backgrounds
Abstract
Prior studies have examined the influence of neighborhood perceptions on youth outcomes, but few studies have examined whose report of neighborhoods, parents' or youths,' are most important in predicting youth outcomes. This study addresses the relative associations of youths' and mothers' neighborhood perceptions with youth alcohol use and delinquency. The sample includes 499 mother-child dyads (youth age: 10 to 16 [mean=13.3;
SD
=2]). Structural equation modeling showed that youths' perceived neighborhood problems were significantly associated with their delinquency but not their alcohol use. However, mothers' perceived neighborhood problems were not related to either youth alcohol use or delinquency, suggesting that youths' perceptions are better indicators of youth behavior. Youth reports may reflect their activities in the neighborhood and their exposure to different forms of deviance, so youths' reports would be better indicators of exposure to neighborhood risk. Challenges for prevention are discussed.