01-08-2011 | Original Article | Uitgave 4/2011 Open Access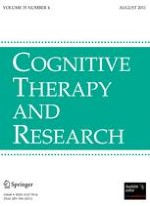 The Relationships of Personality and Cognitive Styles with Self-Reported Symptoms of Depression and Anxiety
Tijdschrift:
Auteurs:

Jonathan M. Sutton, Susan Mineka, Richard E. Zinbarg, Michelle G. Craske, James W. Griffith, Raphael D. Rose, Allison M. Waters, Maria Nazarian, Nilly Mor
Introduction
Psychological theories of vulnerabilities for depressive symptoms and disorders have proliferated for over 40 years. The list of potentially important vulnerabilities now includes personality traits such as neuroticism, personality-cognitive styles such as sociotropy and autonomy, and cognitive styles such as dysfunctional attitudes and negative inferential style. Significant concurrent relationships have been found between depressive symptoms and neuroticism (e.g., Klein et al.
2009
), dysfunctional attitudes (reviewed in Clark and Beck
1999
), negative inferential style (e.g., Haeffel et al.
2008
), sociotropy (e.g., Robins et al.
1994
), and autonomy (e.g., Zuroff
1994
). Additional research has supported the validity of these constructs in prospective prediction of depressive symptoms and disorders (Alloy et al.
2006
; Clark and Beck
1999
; Clark et al.
1994
; Klein et al.
2009
).
The current study focuses on three important issues in this area of research that have received relatively little attention. First, although these theories of cognitive diatheses and personality-cognitive styles were originally hypothesized as vulnerabilities to depressive symptoms and disorders, little research has examined whether these are also diatheses for closely related (and highly comorbid) anxiety symptoms and disorders (e.g., Clark et al.
1994
; Mineka et al.
1998
). Second, relatively few investigations have examined these specific diatheses collectively to determine which are uniquely associated with depressive (or anxiety) symptoms and disorders. Finally, it is also not known whether these putatively more specific vulnerabilities for depression make unique contributions to symptoms above and beyond neuroticism (N), which has already been well established as a predictor of anxiety and depression (e.g., Clark et al.
1994
; Klein et al.
2009
; Watson et al.
2005
). Thus, the purpose of the present study was to examine these three issues in a cross-sectional sample of high school juniors participating in the Youth Emotion Project—an ongoing longitudinal study of common and specific risk factors for mood and anxiety symptoms and disorders.
Cognitive Vulnerability Models for Depression and Anxiety
Research on cognitive theories of depression has focused primarily on dysfunctional attitudes and negative inferential style. Dysfunctional attitudes were first described by Beck (e.g.,
1967
) whose theory posits that maladaptive or dysfunctional attitudes, beliefs, and assumptions about the self, world, and future predispose individuals to experience depression, particularly when these beliefs are activated by negative life events (e.g., Clark and Beck
1999
). Abramson, Alloy, and colleagues have investigated a somewhat different cognitive diathesis—negative inferential style (e.g., Alloy et al.
2006
). Negative inferential style refers to the tendency to interpret negative life events as leading to negative consequences, signifying fundamental flaws about the self, and having stable and global causes. Dysfunctional attitudes and inferential style are moderately correlated, with studies in unselected college samples reporting correlations between .4 and .5 (e.g., Hankin et al.
2005
).
Although both of these cognitive styles were originally proposed as vulnerabilities for depression, researchers have questioned whether these styles might not also apply to anxiety, or to the overlap between anxiety and depression (e.g., Alloy et al.
1990
; Mineka et al.
1995
,
1998
). First, substantial overlap has been documented between anxiety and depression at both the symptom and diagnostic levels (e.g., Clark and Watson
1991
). Second, the proponents of these cognitive vulnerability theories have themselves cited the possibility of such relationships. For example, Haeffel et al. (
2008
) recently reviewed the literature on the Cognitive Style Questionnaire (CSQ) (e.g., Alloy et al.
2000
) and cited a need for further investigation of its specificity to depression. Moreover, Clark and Beck (
1999
) noted that the scale used to measure their construct (DAS) is called the "Dysfunctional Attitudes Scale and not the Depressotypic or Depressogenic Attitudes Scale" (p. 137).
Several studies have reported significant relationships between anxiety symptoms and these putatively depressogenic vulnerabilities, although most studies have focused on only a few types of anxiety symptoms. For example, in a student sample, Hankin et al. (
2004
) reported moderate concurrent associations between both the DAS and the CSQ with general anxiety and anxious arousal symptoms assessed by the Mood and Anxiety Symptom Questionnaire (Watson et al.
1995a
). Hankin (
2008a
) also found moderate correlations between inferential style and anxious arousal symptoms concurrently and longitudinally in a sample of sixth to tenth graders. Finally, Oliver et al. (
2007
) reported small to moderate associations between both the DAS and the CSQ with anxiety symptoms on the Beck Anxiety Inventory (Beck et al.
1988
). The present study extends these associations to a wider range of anxiety symptomatology.
Personality-Cognitive Styles and Depression and Anxiety
Sociotropy and autonomy are two personality-cognitive style constructs that have been hypothesized to confer vulnerability to depression (e.g., Clark and Beck
1999
). Individuals scoring highly on sociotropy are described as basing their self-worth on the closeness and security of social relations with others, whereas those scoring highly on autonomy are described as basing their self-worth on achievement, independence, and control. These two personality-cognitive styles are partially independent, with the two constructs correlating only .20 in two college student samples (Robins et al.
1994
).
Although several studies have reported significant main effects of sociotropy and autonomy on concurrent self-reported depression (e.g., Frewen and Dozois
2006
; Robins et al.
1994
), there has been only limited investigation into whether they are also predictors of anxiety symptoms. For example, Alford and Gerrity (
1995
) reported significant concurrent associations between sociotropy (but not autonomy) and symptoms of both depression and anxiety. However, Fresco et al. (
2001
) found concurrent associations between sociotropy and anxiety (but not depressive) symptoms, whereas autonomy related only to depressive symptoms. Clearly more research is needed on this topic before drawing any firm conclusions as the empirical work to date is quite limited in depth and scope.
Neuroticism
The present study sought to compare the incremental validity of these putatively more specific diatheses to the broader personality trait of N which has been defined as a relatively stable trait tapping one's sensitivity to negative stimuli and the tendency to experience negative mood states (e.g., Clark et al.
1994
; Eysenck and Eysenck
1975
). In a widely cited early review, Clark et al. (
1994
) concluded that high N confers increased risk for both anxiety and depression. Over the past 15 years, a significant body of additional research has further documented these associations (see Klein et al.
2009
; Watson et al.
2005
, for recent reviews).
Incremental Validity of Predictors
Objectives
The present study had three objectives. First, we examined whether cognitive and personality-cognitive styles theorized to be related to depression were also significantly related to symptoms of different types of anxiety. Two patterns of results could be hypothesized based on past research and theory. A specificity hypothesis would suggest that whereas all five vulnerabilities should be significantly associated with depression, only N should be significantly related to anxiety symptoms. Alternatively, a nonspecificity hypothesis suggests that vulnerabilities for depression may be vulnerabilities for at least some types of anxiety as well.
The second and third objectives examined the incremental validity of the cognitive style, personality-cognitive style, and neuroticism vulnerabilities for each of eight outcomes: two depression scales, a depression symptom composite, and five scales measuring different types of anxiety symptoms. These comparisons initially examined just the four specific vulnerabilities and subsequently included the broader neuroticism vulnerability. If individual vulnerabilities were significant unique predictors of symptom outcomes, it would indicate that meaningful variance was accounted for by the non-overlapping components of each diathesis. Alternatively, if the group of predictors as a whole accounted for significant variance in depressive or anxiety symptoms, but the individual predictors did not, such findings would support the hypothesis that the overlapping aspects of the vulnerabilities were the key to predicting symptoms. Thus, our second and third objectives focused on the degree to which overlapping versus unique aspects of these vulnerabilities were associated with current mood and anxiety symptoms.
Method
Results
Discussion
The present study sought to extend the limited amount of research to date on the relationship between symptoms of anxiety and previously studied vulnerabilities for depression as well as to examine the unique predictive power of specific diatheses. We also examined the incremental validity of the more narrowly defined specific vulnerabilities and N.
Acknowledgments
This research was supported by National Institute of Mental Health Grants R01 MH65651 to Richard Zinbarg and Susan Mineka (NU) and R01 MH65652 to Michelle Craske (UCLA). This research was also supported by National Institute of Mental Health Grant F31 MH076579 to the first author. Richard Zinbarg was also supported by the Patricia M. Nielsen Research Chair of the Family Institute at Northwestern University. Grateful acknowledgment is given to Jeff Jaeger, Angela Chiong, Lauren Spies, Catherine D'Avanzato, Corissa Callahan, and Natalie Castriotta.
Open Access
This article is distributed under the terms of the Creative Commons Attribution Noncommercial License which permits any noncommercial use, distribution, and reproduction in any medium, provided the original author(s) and source are credited.