22-08-2018 | ORIGINAL PAPER | Uitgave 4/2019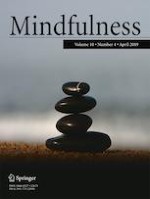 The Relationship of Mindfulness to Body Shame, Body Responsiveness, and Health Outcomes
Tijdschrift:
Auteur:

Jean M. Lamont
Belangrijke opmerkingen
Author's note
The study reported herein was approved by Bellarmine's IRB and all participants provided informed consent prior to participation. Special thanks to Amelia J. Roberts and McKenzie Prince for their assistance with data collection on this project.
Abstract
Body shame, a self-conscious emotion resulting from the perception that one's body fails to meet cultural body ideals, has predicted a number of negative outcomes in women, including poor physical health outcomes. Prior research has suggested that this may occur because body shame promotes diminished body responsiveness, or the valuing of bodily signals as a source of information, which in turn may lead to poor health-related outcomes. Mindfulness has been shown to ameliorate correlates of body shame (e.g., general shame), to improve attention to internal bodily functions, and to predict better health outcomes. Thus, mindfulness may be associated with better health outcomes via the mechanisms of lower levels of body shame and higher levels of body responsiveness. The current study tested this idea cross-sectionally in a sample of college-aged women (
N
 = 115). Mindfulness was associated with low body shame and high body responsiveness as well as low levels of infections and symptoms and better self-rated health. Moreover, body shame and body responsiveness mediated the relationships between mindfulness and infections and mindfulness and self-rated health even when controlling for BMI and psychiatric conditions. These results provide initial support for the notion that mindfulness may attenuate the effects of body-related variables on health outcomes by decreasing body shame and improving body responsiveness. However, given the limitations of the current study's cross-sectional design to provide evidence of directionality in the proposed model, future studies are recommended.