01-12-2016 | Research | Uitgave 1/2016 Open Access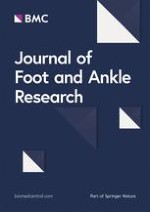 The relationship of foot and ankle mobility to the frontal plane projection angle in asymptomatic adults
Tijdschrift:
Auteurs:

Narelle Wyndow, Amy De Jong, Krystal Rial, Kylie Tucker, Natalie Collins, Bill Vicenzino, Trevor Russell, Kay Crossley
Belangrijke opmerkingen
Competing interests
The authors would like to declare no competing interests.
Authors' contributions
TR, KC, KT, NC, BV and NW were involved in the study design. NW, ADJ and KR were responsible for data collection and processing. NW, KC, KT, NC, BV and TR were involved in data analysis and interpretation. NW drafted the initial manuscript and all authors were involved in revising and approving the submitted manuscript.
Abstract
Background
The frontal plane projection angle (FPPA) is frequently used as a measure of dynamic knee valgus during functional tasks, such as the single leg squat. Increased dynamic knee valgus is observed in people with knee pathologies including patellofemoral pain and anterior cruciate injury. As the foot is the primary interface with the support surface, foot and ankle mobility may affect the FPPA. This study investigated the relationship between foot and ankle mobility and the FPPA in asymptomatic adults.
Methods
Thirty healthy people (aged 18–50 years) performed 5 single leg squats. Peak FPPA and FPPA excursion were determined from digital video recordings. Foot mobility was quantified as the difference in dorsal midfoot height or midfoot width, between non-weightbearing and bilateral weightbearing positions. Ankle joint dorsiflexion range was measured as the maximum distance in centimetres between the longest toe and the wall during a knee-to-wall lunge. Linear regressions with generalised estimating equations were used to examine relationships between variables.
Results
Higher midfoot width mobility was associated with greater peak FPPA (
β
0.90,
p
 < 0.001, odds ratio [OR] 2.5), and FPPA excursion (
β
0.67,
p
 < 0.001, OR 1.9). Lower midfoot height mobility was associated with greater peak FPPA (
β
0.37,
p
 = 0.030, OR 1.4) and FPPA excursion (
β
0.30,
p
 = 0.020, OR 1.3). Lower ankle joint dorsiflexion was also associated with greater peak FPPA (
β
0.61,
p
 = 0.008, OR 1.8) and greater FPPA excursion (
β
0.56,
p
 < 0.001, OR 1.7).
Conclusions
Foot and ankle mobility was significantly related to the FPPA during the single leg squat in healthy individuals. Specifically, higher midfoot width mobility, or lower ankle joint dorsiflexion range and midfoot height mobility, were associated with a greater FPPA. These foot mobility factors should be considered in the clinical management of knee-related disorders that are associated with a high FPPA.