01-08-2009 | Uitgave 6/2009 Open Access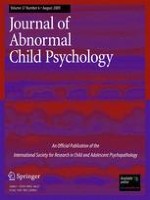 The Relationship Between Parenting and Delinquency: A Meta-analysis
Tijdschrift:
Auteurs:

Machteld Hoeve, Judith Semon Dubas, Veroni I. Eichelsheim, Peter H. van der Laan, Wilma Smeenk, Jan R. M. Gerris
Belangrijke opmerkingen
References marked with an asterisk indicate studies included in the meta-analysis.
Abstract
This meta-analysis of 161 published and unpublished manuscripts was conducted to determine whether the association between parenting and delinquency exists and what the magnitude of this linkage is. The strongest links were found for parental monitoring, psychological control, and negative aspects of support such as rejection and hostility, accounting for up to 11% of the variance in delinquency. Several effect sizes were moderated by parent and child gender, child age, informant on parenting, and delinquency type, indicating that some parenting behaviors are more important for particular contexts or subsamples. Although both dimensions of warmth and support seem to be important, surprisingly very few studies focused on parenting styles. Furthermore, fewer than 20% of the studies focused on parenting behavior of fathers, despite the fact that the effect of poor support by fathers was larger than poor maternal support, particularly for sons. Implications for theory and parenting are discussed.