14-04-2016 | ORIGINAL PAPER | Uitgave 4/2016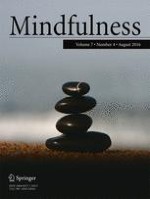 The Relationship Between Mindfulness and Compulsive Sexual Behavior in a Sample of Men in Treatment for Substance Use Disorders
Tijdschrift:
Auteurs:

Ryan C. Shorey, Joanna Elmquist, Michael J. Gawrysiak, Scott Anderson, Gregory L. Stuart
Abstract
Substance use disorders (SUDs) are a serious worldwide problem. Despite years of research on the treatment of SUDs, relapse remains high. One factor that may complicate SUDs treatment for some patients is compulsive sexual behavior. Factors that are related to both SUDs and compulsive sexual behavior could be targeted in SUDs treatment. In the current study, we examined dispositional mindfulness, a protective factor for a range of mental health problems, and its relationship to compulsive sexual behavior in a SUDs treatment sample. This is the first study to examine this relationship in a SUDs sample. Medical records from men in residential SUDs treatment were reviewed for the current study (
N
 = 271). Upon admission to treatment, men completed self-report measures on alcohol and drug use, dispositional mindfulness, and compulsive sexual behavior. Bivariate correlations demonstrated dispositional mindfulness to be negatively associated with a variety of indicators of compulsive sexual behavior. After controlling for alcohol and drug use and problems in hierarchical regression analyses, which were both associated with compulsive sexual behaviors, dispositional mindfulness remained negatively associated with all of the compulsive sexual behavior indicators. Our results provide the first empirical association between dispositional mindfulness and compulsive sexual behavior in a SUDs sample. Although continued research is needed in this area, our findings suggest that it may be beneficial for SUDs treatment to incorporate mindfulness-based interventions for individuals with comorbid compulsive sexual behavior.