01-12-2010 | Uitgave 10/2010 Open Access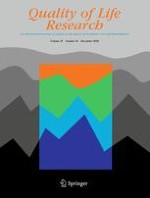 The relationship between chronic pain and health-related quality of life in long-term social assistance recipients in Norway
Tijdschrift:
Auteurs:

Borghild Løyland, Christine Miaskowski, Steven M. Paul, Espen Dahl, Tone Rustøen
Abbreviations
HRQOL
Health-related quality of life
LTR
Long-term social assistance recipient
SF-12
Health survey short form 12 questionnaire
Introduction
Norway is a welfare state of a social-democratic type. This implies that public welfare is universal, comprehensive, and generous when compared with other welfare regimes. The major income maintenance system is social insurance. All citizens who fulfill specific criteria are entitled to social insurance benefits. One crucial criterion for most benefits is a work record. Rights to social insurance (e.g., unemployment benefit, sickness pay) are earned by previous labor market participation. People who have not earned the right to or exhausted their rights to social insurance and are unable to support themselves, are eligible for social assistance. Unlike social insurance, social assistance provides the last safety net and is a means tested benefit. Usually, social assistance is not as generous as unemployment benefits.
In summary, a limited amount of data suggests that LTRs struggle with a number of chronic health issues, report chronic pain and loneliness, and are more likely to abuse alcohol and illicit drugs. Taken together, all these factors may have a negative impact on HRQOL. However, no studies were found that evaluated the impact of these factors on HRQOL of LTRs with and without chronic pain. Therefore, the purposes of this study were to compare the HRQOL of LTRs with and without chronic pain and determine the effect of select demographic, social, pain, alcohol and illicit drug use characteristics on the physical and mental components of their HRQOL.
Methods
Design and data collection procedures
This study is part of a larger study, named: "The study of functional ability among long-term social assistance recipients". The study was funded by the Directorate for Health and Social Affairs in Norway after an evaluation of "The National Activation Trial" from 2000 to 2004. "The National Activation Trial" was done to promote and support new ways to move LTRs away from benefit dependency into work. This evaluation showed that approximately 23% of the LTRs went back to work [
41
]. Because the results of the National Activation Trial were relatively modest, to better understand the LTRs′ psychosocial characteristics and their functional ability, the current study was funded.
This descriptive, cross-sectional study surveyed people receiving long-term social assistance in Norway about their health and social functioning. Data were collected from January to November 2005. The social welfare authority offices in each of 14 municipalities in Norway were responsible to locate the LTRs who met the study's inclusion criteria. The respondents were sent the survey questionnaires and returned them directly using a postage paid envelope to Oslo University College. LTRs who did not reply received two mailed reminders. Some LTRs who did not respond to the mailed reminders were telephoned; while others were reminded to complete the questionnaires by case workers. These extensive data collection procedures were used because previous experience demonstrated that LTRs are difficult to reach. Some relocate and change their addresses frequently or live at an unknown residence. Others stay temporarily in shelters, hospitals, institutions, or prison. The actual number of LTRs in this study, who were homeless or lived in shelters, is not known because this information was not obtained in the demographic questionnaire.
Sample
Participants were recruited from 14 of 433 municipalities in Norway. These municipalities were part of "The National Activation Trial". The selected municipalities provided geographic variability including both rural and urban municipalities in different parts of the country. The municipality with the fewest LTRs who satisfied the inclusion criteria had only 10, while the one with the largest number had 282 recipients. LTRs were included in this study if they had received social assistance as their main source of income for at least 6 of the last 12 months; were between 18 and 60 years of age; and were able to complete the study questionnaires.
As shown in Fig.
1
, 1,291 LTRs met the initial inclusion criteria. However, 225 of these individuals were pre-screened by case workers as unable to complete the questionnaires because of severe substance abuse problems; insufficient mastery of the Norwegian language; extensive problems with reading and writing; or serious illness. Therefore, 1,066 LTRs were included and 562 responded (i.e., response rate of 52.7%). Eleven responders were excluded because they were above 60 years of age. An additional 100 participants were excluded because they were found to be in a work activation program and were no longer on long-term social assistance. Because 12 LTRs did not answer the screening question about having pain and 32 participants could not be clearly placed in either the chronic pain or the no pain group, they were excluded. Consequently, 405 LTRs are included in all of the subsequent comparative analysis. Administrative data ("FD-trygd") were used to compare the 1,291 recipients who met the inclusion criteria with those who responded to the questionnaire. No differences in age, gender, previous receipt of social assistance or social security benefits were found between those LTRs who did and did not return the study questionnaires [
42
].
×
Ethical considerations
When research is done with vulnerable groups, special attention needs to be given to research ethics. This study was planned and performed in a way that protected the LTRs from violations of their right to privacy. All questionnaires that were returned to the research office contained no personal identifying information. Completion of the questionnaires indicated informed consent. The study, including the number of reminders, was approved by the Data Inspectorate and the National Committee for Research Ethics in the Social Sciences and the Humanities.
Instruments and scoring procedures
The questionnaires that were sent to the LTRs provided information on socio-demographic characteristics, work, health indices, HRQOL, pain, use of alcohol and narcotics, social capital, and childhood difficulties. Only the data on socio-demographic characteristics, pain, feeling lonely, use of alcohol and illicit drugs, and HRQOL are presented in this paper.
The questionnaire was finalized after a pilot test with twelve social assistance recipients in one municipality. Three of the researchers met the social assistance recipients and obtained feedback about the questionnaire.
Socio-demographic characteristics
Data on age, gender (female = 1, male = 2), marital status, education (1 = primary school, 2 = secondary school, 3 = college/university), living alone (yes = 1, no = 2), and work (yes = 1, no = 2) were collected of the LTRs.
Pain
Pain was assessed using a nine-item questionnaire that evaluated for the presence of pain, and if present, its cause, location, duration, intensity, and treatments. In this study, LTRs were categorized into pain groups based on their responses to a screening question about whether or not they were generally in pain.
Categorization of chronic pain
Chronic pain was defined as pain of >3 months duration [
12
–
14
]. For the LTR group who answered yes to the question "Do you generally have pain?" the response to the duration question was analyzed. Those LTRs whose pain duration was >3 months were classified as chronic pain patients. Those LTRs whose pain duration was ≤3 months were classified as not being in chronic pain (yes = 1, no = 2).
Feeling lonely
LTRs were asked "Does it happen that you often (1), sometimes (2), seldom (3), or never (4) feel lonely?" This question was used in previous studies of the Norwegian general population by Statistics Norway [
43
].
Alcohol and illicit drug use questionnaire
Two items asked about whether the LTRs now or previously had experienced problems with alcohol and illicit drug use (range of responses from "yes some", "yes", collapsed to yes (1) "not now, but earlier", to "no", collapsed to no (2). The items on alcohol and illicit drug use were developed and pilot tested for this study.
SF-12
HRQOL of the LTRs was evaluated using the Norwegian version of the SF-12, which consists of 12 questions about physical and mental health as well as overall health status [
44
,
45
]. The questionnaire is scored into two components that measure physical (PCS) and mental (MCS) health. SF-12 has been translated into several languages, including Norwegian and thoroughly tested for its psychometric properties [
46
]. Higher PCS and MCS scores indicate a better HRQOL.
Data analyses
Data were analyzed using SPSS for Windows (version 17.0). Descriptive analyses were done to assess the characteristics of the sample. Chi-square analyses and independent sample
t
-tests were used to evaluate for differences in demographic, social, and substance abuse characteristics and HRQOL between LTRs with and without chronic pain. Correlation analyses (i.e., Fishers exact test and Pearson's) were used to assess the bivariate relationships between selected variables. Multiple linear regression analyses were used to determine the effect of selected variables on SF-12 physical and mental health component scores. A
P
-value of <0.05 was considered statistically significant.
Results
Discussion
Conclusion
Findings from this study suggest that chronic pain in LTRs is associated with poorer physical health. However, both groups of LTRs had lower mental health scores than normative data for the general population. These findings warrant replication in future studies. In addition, longitudinal studies are needed to evaluate the long-term impact of chronic pain on the physical health of LTRs.
Acknowledgments
The research is funded by Oslo University College and by the Directorate for Health and Social Affairs Norway.
Open Access
This article is distributed under the terms of the Creative Commons Attribution Noncommercial License which permits any noncommercial use, distribution, and reproduction in any medium, provided the original author(s) and source are credited.
Open Access
This is an open access article distributed under the terms of the Creative Commons Attribution Noncommercial License (
https://​creativecommons.​org/​licenses/​by-nc/​2.​0
), which permits any noncommercial use, distribution, and reproduction in any medium, provided the original author(s) and source are credited.