22-07-2015 | Empirical Research | Uitgave 11/2015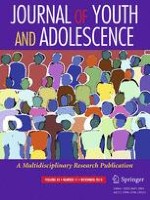 The Relationship Between Autonomy and Relatedness and Adolescents' Adrenocortical and Cardiovascular Stress Response
Tijdschrift:
Auteurs:

Emily C. Cook, Tara M. Chaplin, Laura R. Stroud
Abstract
Developing autonomy and maintaining relatedness within the parent–adolescent relationship marks a realignment process that shifts adolescents' decision making and regulation from parents to youth. This process may be stressful for some adolescents, particularly those who perceive their daily lives as stressful. This study examined the associations of autonomy, relatedness and perceived stress with adolescents' cortisol and blood pressure response to conflict in a mother–adolescent interaction task among 100 adolescents (
M
age
= 15.09; 68 % girls, 78 % Caucasian). Few direct associations were found, but results indicated that perceived stress moderated the effect of autonomy and relatedness such that youth who reported more perceived stress and whose mothers' restricted their autonomy and undermined their relatedness evidenced increased cortisol and systolic blood pressure when compared to youth lower in perceived stress. The results highlight the importance of examining individual differences in the association between normative developmental transitions and adolescents' neurobiological response to stress.