06-07-2018 | Review | Uitgave 11/2018 Open Access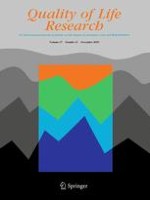 The quality of life in Chinese population with chronic non-communicable diseases according to EQ-5D-3L: a systematic review
Tijdschrift:
Auteurs:

Ting Zhou, Haijing Guan, Jiaqi Yao, Xiaomo Xiong, Aixia Ma
Belangrijke opmerkingen
Ting Zhou and Haijing Guan are first authors.
Abstract
Purpose
Over the past decade, a changing spectrum of disease has turned chronic non-communicable diseases (CNCDs) into the leading cause of death worldwide. During the 2015 in China, there were more than 6.6 million deaths from NCDs, which was the highest rate around the world. In the present study, we performed a systematic review to analyze the health-related quality of life (HRQoL) according to EQ-5D-3L instrument in patients with different kinds of CNCDs in China.
Methods
We searched PubMed, Embase, Web of Science, Cochrane Library, VIP, WanFang Data, and CNKI databases up to April 12, 2018, to identify all relevant studies that reported on HRQoL assessed by EQ-5D-3L instrument in Chinese patients with CNCDs. Expert consultation and hand-searching of reference lists from retrieved studies were employed to identify additional references. The variation of mean utility values, EQ-VAS score ranges, and responses for each EQ-5D dimension described in relevant studies were extracted.
Results
A total of 5027 English-language articles and 618 Chinese-language articles were identified, among which 38 articles met full inclusion criteria. These 38 studies involved 18 kinds of CNCDs. In this review, the health utility for diabetes mellitus ranged from 0.79 to 0.94 (EQ-5D VAS scores from 61.5 to 78.6), hypertension from 0.78 to 0.93 (70.1–77.4), coronary heart disease from 0.75 to 0.90 (71.0–77.0), chronic obstructive pulmonary disease from 0.64 to 0.80 (55.0–67.0), epilepsy from 0.83 to 0.87 (78.3–79.6), cerebral infarction from 0.51 to 0.75 (49.7–79.0), while children cerebral palsy was 0.44 (27.3).
Conclusions
EQ-5D-3L is widely used in studies of HRQoL associated with CNCDs in China. Our results suggest that many factors may influence the measurement results of health utilities, including age, gender, sample source, comorbidities, rural/urban, and EQ-5D-3L value sets.