01-04-2011 | Original Article | Uitgave 2/2011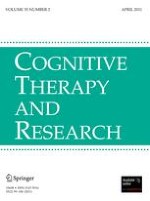 The Predictors and Contents of Post-Event Processing in Social Anxiety
Tijdschrift:
Auteurs:

Steve R. Makkar, Jessica R. Grisham
Abstract
The present study investigated the factors that influence the likelihood that individuals engage in post-event processing (PEP)—the act of engaging in a detailed, negative, and self-focused review following social situations. This study also examined the cognitive contents of PEP in a nonclinical sample (
N
= 40). Participants undertook both a 5-min speech and conversation and then completed measures assessing cognitions, behaviours, and physiological processes that occurred during each task. Twenty-four hours later, PEP was measured in relation to both tasks. Results showed firstly that PEP was greater following the speech than the conversation. Secondly, negative assumptions were found to be a unique predictor of PEP over and above depression, trait anxiety, and other cognitive-behavioural variables. Finally, higher levels of social anxiety were associated with experiencing more negative self-perceptions and regret-based cognitions during PEP. Current findings underscore the importance of targeting negative assumptions, self-related cognitions, and regret-based thoughts in therapy.