01-08-2018 | Uitgave 11/2018 Open Access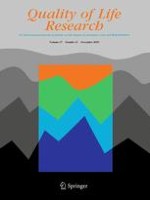 The Portuguese Rheumatoid Arthritis Impact of Disease (RAID) score and its measurement equivalence in three countries: validation study using Rasch Models
Tijdschrift:
Auteurs:

Ricardo J. O. Ferreira, Laure Gossec, Cátia Duarte, Joanne K. Nicklin, Sarah Hewlett, J. A. P. da Silva, Mwidimi Ndosi
Belangrijke opmerkingen
Electronic supplementary material
Introduction
Rheumatoid arthritis (RA) is the most common and serious inflammatory arthritis [
1
]. The clinical presentation of RA is not circumscribed to joint inflammation, its main characteristic, but having a systemic involvement. Its symptoms such as pain, fatigue, morning joint stiffness, sleep disturbances, or depression highly affect patient's quality of life [
2
,
3
]. Because of this, the patient's perceptions of the impact of the disease are of upmost importance.
Different patient-reported outcomes (PROs) have been developed to assess the patient's perspective and are included as endpoint for clinical trials [
4
,
5
]. The "Rheumatoid Arthritis Impact of Disease" (RAID) score is one of these PROs. It was developed in English, through a European League Against Rheumatism (EULAR) initiative, aiming at combining the most important domains for patients in one single measure [
6
,
7
]. Several methodological steps were followed and are detailed elsewhere [
6
,
7
]. Briefly, the first step was to identify important health domains affected by RA through a focus group with ten patients from ten European countries. These domains were then ranked by 96 patients based on their personal experiences and the seven highest-ranked domains were selected (pain, functional disability assessment, fatigue, sleep, physical well-being, emotional well-being and coping with disease). The wording and the scaling of the domains resulted in seven numerical rating scales (NRS), from 0 (best status) to 10 (worst status). The relative weights for each domain were then defined based on patient priorities (pain weighs 21%, functional disability 16%, fatigue 15%, and the remaining 12%). Finally, a longitudinal observational study of 570 patients from 12 European countries revealed its construct validity, reliability and sensitivity to change [
6
,
7
]. Later studies supported these psychometric properties and acceptability to patients, who also commented on its ease of completion [
8
–
10
].
The RAID score has now been used in clinical trials [
11
], registries [
8
] and also in national audits [
12
], both as a global score and for individualized goal setting in clinical practice, using its seven items individually instead of its global weighted score [
13
–
16
]. This assumes validity and reliability of the global score and of each item of RAID, although the latter had not been established until now. The number of translations of the RAID (over 70 languages) [
17
] also demonstrates the interest in its use. A Portuguese translation for Portugal and for Brazil was performed by a specialized company (Mapi Institute) in 2012 [
17
]. However, the Portuguese RAID required further input from patients in Portugal and robust psychometric evaluation of the individual items as well as the global score in order to ensure valid measurements at the individual and group levels. In addition, the evidence of measurement comparability (psychometric equivalence) between the Portuguese RAID and the original RAID score needed to be demonstrated in order to allow data-pooling and comparison across countries. Modern psychometric methods such as Rasch analysis allow for detailed evaluation of psychometric properties of a scale, thus validating the adapted version, as well as testing measurement comparability across scales [
18
]. The aim of this study was therefore to test patients' understanding of the Portuguese RAID and evaluate its cross-cultural validity using Rasch analysis.
Participants and methods
Results
Patient characteristics
In total, 38 patients were included in Phase 1 and 288 in Phase 2. Their demographic and clinical characteristics are summarized in Table
1
. Most patients were women, with low education background and with long standing disease duration.
Table 1
Characteristics of patients included in the Portuguese dataset
Variable

32 (84.2)

236 (81.9)

Age [years, mean (SD)]

58.6 (10.4)

59.8 (12.4)

Education background [

n

(%)]

≤ 4 years

22 (57.9)

139 (48.3)

5–9 years

4 (10.5)

66 (22.9)

10–12 years

7 (18.4)

49 (17.0)

> 12 years

5 (13.2)

34 (11.8)

Disease duration [years, mean (SD)]

15.7 (11.3)

11.8 (8.9)

Treated with bDAMRDS [

n

(%)]

25 (65.8)

87 (30.2)

DAS28(CRP)4v [mean (SD)]

na

2.9 (1.0)

Experienced with NRS [

n

(%)]

26 (68.4)

149 (51.7)

HAQ-DI remission (≤ 0.5) [

n

(%)]

a

na

77 (27.3)

PGA (0–100) [mean (SD)]

na

44.5 (26.8)
Phase 1: cognitive debriefing
Few issues were raised about understanding of some terminologies used in four items (items 3, 4, 5 and 6); however, only two items (item 3 and item 4) were subject to minor changes:
Item 3—"Fatigue. Circle the number that best describes how much fatigue you felt due to your RA during the last week". Some patients did not know the meaning of "Fadiga" (Fatigue); the term "Cansaço" (tiredness) was known by everyone:
"I understand what fatigue is but tiredness I would have understood better." (Patient 7)
After discussion, it was agreed to add the second term to the head of the item—"Fadiga/Cansaço".
Item 4—"Sleep: circle the number that best describes the sleep difficulties (i.e. resting at night) you felt due to your RA during the last week". In the Portuguese version the term "difficulties" was translated into "distúrbios" (disturbances). For some patients this term was difficult to understand, as it may be understood as "disease/diagnose" or as "difficulty to sleep" and the problem could be "sleep too much":
"Sometimes I sleep bad because of other problems, related to me, not related to the pain, thank God. (...) Maybe it would be better to use «loss of sleep» or other simpler word [instead of disturbances]..." (Patient 5) "Maybe «changes», although disturbances is understandable..." (Patient 7), "or «difficulties»..." (Patient 6)
It was agreed to change the term "distúrbios" to "dificuldades" (difficulties).
Item 5—"Physical well-being: Considering your arthritis overall, how would you rate your level of physical well-being during the past week?". For most patients to be in a good state of physical well-being ("Bem-estar físico") was described as: not having pain, followed in terms of frequency by being able to walk, and in lesser extent, being able to perform domestic/work tasks and few patients referred to other meanings. Among patients, the concept meaning appeared to overlap with item 2 (functional disability assessment/"Avaliação de deficiência funcional"), which assesses the difficulty in doing daily physical activities. The researchers considered this as a conceptual problem rather than a translation issue. Supplementary Table S1 presents patient's quotes related to the four items.
Beyond the terminologies used in the four items, the anchors of the NRS were also discussed because at least two patients assumed that ten correspond to better health condition, disregarding what was written in the NRS's anchors. One patient made an analogy with the grades of a school's test:
"Yes, it is like the grades: 5 is nothing but 10 is already a good mark. Because of that people may think that 10 is good." (Patient 15).
Since this was a major change, without enough support, no changes were done to these anchors.
Phase 2: cross-cultural validation
Discussion
This study aimed to incorporate patient perspective in the adaptation of the Portuguese RAID, an impact questionnaire for RA, and to validate it for use in Portugal using modern statistical approaches.
The Portuguese version of the RAID, as well as many of its translations to other languages, was carried out by Mapi Institute, an organization specialized in PROs research. However, the Portuguese RAID required further input from a wider group of patients before the statistical evaluation of the underlying construct was carried out [
19
]. Our qualitative study (phase I) added more patients' perspective into the Portuguese RAID, making it more meaningful to them. As a result, minor changes were performed in Fatigue and Sleep items to ensure that patients understand the concepts intended by the items and thus give accurate responses.
The cognitive debriefing also revealed that some patients may not read the item anchors which might led them to interpret 10 as good when it means bad. This misunderstanding has also been found in other studies regarding VAS interpretation by patients with chronic conditions [
39
–
41
]. This problem might have been resolved by adding smiley faces at the extremes like in pain assessment for children or elderly persons, but it would have been a major change to the tool that is already established. Providing a brief explanation about the anchors of the scale may therefore be important especially for first time users or for those patients with low literacy or low educational level [
39
,
42
].
The results of Rasch analysis highlighted two issues (i) redundancy of Physical well-being (overlapping with functional disability) and (ii) the possibility that Sleep item measures a slightly different dimension. These issues were not observed in the UK dataset (the original RAID was developed in English) suggesting that the problem may not be inherent to RAID itself but reflecting imperfections of the cross-cultural adaptations. Addressing the redundancy by combining the two locally dependent items (physical well-being and functional disability) improved the scale performance, including fit residuals for the sleep item. Future developments need to address the phrasing of physical well-being to avoid confusion with functional disability. As sleep item still displayed higher SD than expected by Rasch model, the improvement (seen by combining functional disability and physical well-being) was not sufficient enough to justify changing the RAID structure into a 6-item questionnaire, although this presented a better fit to the model. Dimensionality of the sleep item needs further exploration. Sleep problems include difficulties in initiating sleep, maintaining sleep, early awakening and non-restorative sleep [
43
]. Given the broad range of sleep problems, it is possible that some patients do not necessarily associate them with RA impact: "
Sometimes I sleep bad because of other problems", a patient said
. A qualitative study of the Dutch RAID found that sleep was hardly mentioned in the focus groups with patients [
44
]. It may be helpful to investigate whether conceptual equivalence issues exist in the Portuguese translation and/or adding explanation to the item to help patients associate sleep problems with RA impact.
Despite lack of adequate fit to the Rasch model, construct validity of the Portuguese RAID is supported by (i) high internal consistency (PSI > 0.85) suggesting enough reliability for use at the individual level (ii) good targeting for patients with different levels of disease impact (iii) good correlations (convergent validity) between RAID items and other tools measuring the same concepts i.e. HAQ-DI, FACIT, HADS, EQ-5D, PGA; and (iv) poor correlations (divergent validity) between RAID items and tools measuring different concepts i.e. PhGA, happiness and personality traits. The first study to test RAID performance in clinical practice (
N
 = 1086) was conducted in Norway,[
8
] and used weighted RAID global score and showed good correlation with PGA, Rheumatoid Arthritis Disease Activity Index (RADAI), Short-Form (SF)-36 general health, SF-6D and EQ-5D (
r
p
was 0.82, 0.82, − 0.66, − 0.77 and − 0.73, respectively) [
8
]. In our study of convergent validity looking at individual RAID items, only the Sleep item showed a moderate correlation with global measures of health (PGA
r
p
= 57, and EQ5D
r
p
= − 0.52), the rest of items had good correlations. Indeed, in the above-mentioned Norwegian study [
8
] the weighted RAID global score also had a moderate correlation (
r
p
= 0.59) with the Sleep Medical Outcome Study (MOS) subscale. It should be noted that specific sleep measures have been shown to have higher correlations with the individual RAID item measuring sleep (
r
p
= 0.73–0.78) [
45
]. Our study did not use specific sleep measures hence the modest correlations.
This study has three limitations. First, lack of adequate fit to Rasch model observed in the Sleep and Physical Well-being items in the Portugal datasets meant that we could not calibrate a stable interval scale from our data (statistical sufficiency of the total score and interval-level scaling depends on adequate fit to the model) [
31
]. New datasets will therefore need to be tested for fit if an interval-level scale is desired. The lack of fit may be related to either un-resolved conceptual equivalence issues in the translation (explained above) or the restrictive nature of Rasch model. Rasch model specifies that all items contributing to the scale have uniform discrimination—i.e. all items have parallel item characteristic curves. The model detects even minor variations in items discrimination across different levels of RA impact. It would be useful in future studies to assess the performance the RAID using other item response models (2-parameter logistic or 3-parameter logistic models) which can accommodate a degree of variation in item discrimination [
46
]. However, fit to these alternative models imply less precise interval scale estimates than those derived from Rasch model. It may as well be useful to explore how well the RAID works as an ordinal measure of disease impact using non-parametric item response models such as Mokken scaling [
47
]. Second, the Portuguese dataset was compared with only two countries, France and the UK. While our data have demonstrated comparability of measures across the three countries, the evidence supporting cross-cultural equivalence would have been stronger if fit to Rasch model was adequate. We therefore downgrade our conclusions to apply to the fitting items only (excluding physical well-being and sleep). Further research will be required to assess measurement equivalence of the Portuguese RAID and other adapted versions data are compared. Lastly, it is important to note that all our analyses were based on unweighted RAID scores as completed by patients. The RAID scoring involves applying different weights to different items to obtain clinically meaningful measures [
6
,
7
].
The strengths of this study include the following: the recruitment of enough Portuguese patients in both phases, with good diversity, including patients who are not used to completing NRS. The use of Rasch model in our analysis enabled a robust assessment of psychometric properties of the RAID including different aspects of construct validity and response bias, although this may also mean a highly strict criteria for measurement validity above that required for clinical use. Availability of datasets from the UK and France allowed assessment psychometric equivalence between the Portuguese RAID, the original RAID and the French version.
Beyond research, this study has important clinical implications. As RAID is a valid measure of the impact of disease in RA, without which many PROs would be required, this study provides Portuguese patients with a measure that is meaningful to them. It will help clinicians and other health professionals assess how RA impacts on patients. Also, the RAID has been incorporated into the Portuguese National Registry [
48
] which will help inform the impact of RA at the population level and provide data for further research.
In conclusion, cross-cultural adaptation and validation of the RAID score into Portuguese for Portugal has been achieved using cognitive debriefing and Rasch models. Although further research will be required to address issues observed in the Sleep and Physical well-being items, the Portuguese RAID has enough construct validity and reliability for clinical use at individual patient and group level.
Acknowledgements
The authors would like to thank the following people for their contribution in data collection: Cristiana Silva, Gisela Eugénio, Jorge Silva, Maria João Salvador, Sara Serra, Margarida Coutinho, João Rovisco, Mariana Santiago, Armando Malcata, Luís Sousa Inês, Carlos Costa, Diogo Jesus, Pedro Carvalho, Marília Rodrigues, Tânia Santiago (Coimbra). The authors also wish to thank the investigators from the France and the UK study for supplying us with the anonymized datasets.
Compliance with ethical standards
Conflict of interest
All authors declare that they have no conflicts of interest.
Ethical approval
Ethical approval for this study was obtained from Centro Hospitalar e Universitário de Coimbra (CHUC-093-16) and from University of Coimbra's Faculty of Medicine (CE-037/2015) ethics committees. The UK and France datasets had ethical approvals from respective countries [
22
].
Informed consent
All patients signed an informed consent form.
Research involving human participants
All procedures performed in studies involving human participants were in accordance with the ethical standards of the institutional and/or national research committee and with the 1964 Helsinki declaration and its later amendments or comparable ethical standards.
Open Access
This article is distributed under the terms of the Creative Commons Attribution 4.0 International License (
http://​creativecommons.​org/​licenses/​by/​4.​0/​
), which permits unrestricted use, distribution, and reproduction in any medium, provided you give appropriate credit to the original author(s) and the source, provide a link to the Creative Commons license, and indicate if changes were made.