30-03-2017 | Review | Uitgave 9/2017 Open Access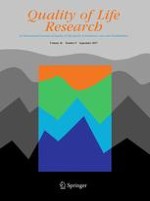 The patient's experience of primary ciliary dyskinesia: a systematic review
Tijdschrift:
Auteurs:

Laura Behan, Bruna Rubbo, Jane S. Lucas, Audrey Dunn Galvin
Abstract
Background
Primary ciliary dyskinesia (PCD) is a rare genetic disorder characterised by progressive sinopulmonary disease, with symptoms starting soon after birth. The aim of this study is to critically review, analyse, and synthesise the literature in order to understand the experiences of patients with primary ciliary dyskinesia (PCD) and the impact on health-related quality of life.
Method
MEDLINE, EBSCO, Cumulative Index to Nursing and Allied Health Literature (CINAHL), PsycINFO and EMBASE were searched according to the inclusion criteria. A qualitative analysis of 14 studies was conducted.
Results
Fourteen studies were included in the review, five with qualitative methodologies. Studies originated from the UK, USA, Italy, Denmark and Belgium, one study included a survey distributed internationally. Significant relationships were found between age and worsening of respiratory symptoms, physical, and mental domains of health-related quality of life, with a greater decline compared with reference populations. Variations between the UK and Italy were found for health-related quality of life and its correlation with time since diagnosis. PCD was found to have a physical impact in all age groups: patients found it difficult to keep up with others, and found energy levels were easily depleted compared to family or peers. In terms of social impact, symptoms lead to embarrassment and a sense of isolation, with patients concealing symptoms and/or their diagnosis. In turn, isolation was also linked with the lack of public and medical knowledge. In relation to emotional impact, anxiety was reported in a number of qualitative studies; patients were anxious about getting sick or when thinking about their future health. The burden of treatment and factors influencing adherence were also discussed in depth.
Conclusion
Health-related quality of life decreases with age in patients with PCD. For all age groups, PCD was found to greatly impact physical, emotional, social functioning, and treatment burden. More research is needed on the psychosocial impact of the illness, disease burden and its effect on quality of life.