08-12-2016 | Editor's Comment | Uitgave 1/2017 Open Access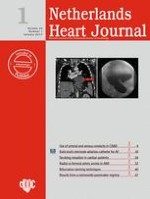 The new Editorial Board
Tijdschrift:
Auteur:

J. J. Piek
In this first issue of the Netherlands Heart Journal in 2017, I would like to introduce to you a new editorial board, consisting of an editor-in-chief and five deputy editors. It is an Amsterdam-based editorial board to facilitate close interaction between the board members. It is the ambition of the new editorial board to further improve the journal's current impact factor as an index of its quality and success. The attractiveness of the journal for authors may be enhanced by offering a rapid review system, which requires close collaboration between the associate editors and the national editorial and international advisory board. Moreover, the Netherlands Heart Journal is an open access, peer review journal offering services without payment for authors in contrast with numerous other open access journals.
The main research interest of the Pinto group (AMC, Amsterdam) is to identify novel mechanisms that can help treat or diagnose cardiomyopathies, such as genetic forms of DCM. His group focuses on RNA biology in relation to genetic variants that are related to heart failure and translates findings to biomarkers or therapeutic targets.
The main research interest of his research group relates to acute coronary syndromes, diagnostics, risk prediction and outcome in STEMI and NSTEMI patients and biomarker studies. In addition, there is increased involvement in structural and congenital heart disease both in percutaneous procedures and in research projects.
The editorial board would like to take the opportunity to thank the previous board members and in particular Professor E.E. van der Wall, who served as editor-in-chief for almost three decades, initially as the editor-in-chief of the Nederlands Tijdschrift voor Cardiologie followed by the journal Cardiologie and finally the Netherlands Heart Journal. These efforts led to the current position of the Netherlands Heart Journal among the top of the 60 national society journals of the ESC-related countries. The editorial board acknowledges the support of the Netherlands Society of Cardiology in its endeavour to further improve the quality of the Netherlands Heart Journal.