25-06-2020 | Original Paper | Uitgave 10/2020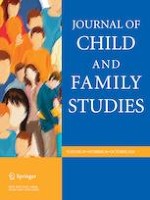 The Moral Emotions of Guilt and Shame in Children: Relationship with Parenting and Temperament
Tijdschrift:
Auteurs:

Margarida Amorim dos Santos, Josefina Maria de Freitas e Castro, Carla Sofia de Freitas Lino Pinto Cardoso
Belangrijke opmerkingen
Publisher's note
Springer Nature remains neutral with regard to jurisdictional claims in published maps and institutional affiliations.
Abstract
This study aimed to understand the role of parenting and child temperament in explaining guilt and shame proneness in elementary school children (aged 8–10 years). For that purpose, 69 caregivers completed measures of parental disciplinary strategies and child temperament (SOMA-PC and TMCQ), while 81 children (57% boys) completed measures of shame and guilt-proneness (TOSCA-C) and performed a behavioral task (DNT) to assess effortful control. Results showed that children from parents that use victim-oriented induction practices are more prone to feel guilt, and consequently more prone to adopt reparative behaviors in sociomoral situations. In contrast, love withdrawal techniques predicted negatively guilt-proneness. Furthermore, no relationship between parenting practices and shame-proneness has been found. Regarding the association between temperament and moral emotions, our results indicate that effortful control, either measured by parental report or through the behavioral task performed by children, predicted positively guilt-proneness. This result suggests that effortful control components may facilitate the experience of affective discomfort associated with guilt proneness, as well as the adoption of normative and prosocial behaviors. Results concerning shame-proneness were less consistent: we did not find any associations between shame proneness and the temperament measures used in the present study. Overall, these findings partially support previous studies on parenting and moral emotions, contributing to a new discussion on the relationship between self-regulatory aspects of temperament and morality in childhood.