02-08-2017 | Uitgave 2/2018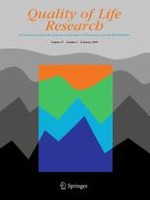 The Minneapolis-Manchester Quality of Life Instrument: reliability and validity of the Adult Form in cancer survivors
Tijdschrift:
Auteurs:

Alysia Bosworth, Elizabeth L. Goodman, Eric Wu, Liton Francisco, Leslie L. Robison, Smita Bhatia
Belangrijke opmerkingen
Presented in abstract form at the 49th American Society of Clinical Oncology Annual Meeting, Chicago, IL, May 31–June 4, 2013, and the 13th International Conference on Long-Term Complications of Treatment of Children and Adolescents for Cancer, Memphis, TN, June 13–15, 2013.
Abstract
Purpose
Childhood cancer survivors are at risk for deficits in health-related quality of life (HRQL) as they age. Youth (8–12 years) and adolescent (13–20 years) versions of the Minneapolis-Manchester Quality of Life Instrument (MMQL) have been developed to address survivor-specific issues and are currently in use; the MMQL-Adult Form has now been developed to assess HRQL in childhood cancer survivors aged 21–55 years.
Methods
The MMQL-Adult Form was administered to 499 adults: 65 cancer patients on-therapy, 107 off-therapy, and 327 healthy controls. Forty-four percent of patients were under 30 years old at cancer diagnosis. Principal components analysis was performed. We evaluated internal consistency reliability, stability (re-administration of the MMQL-Adult Form 2 weeks later), construct validity (concurrent administration of the SF-36), and known-groups validity (score comparisons across the three groups).
Results
Principal components analysis resulted in retention of 44 items across six scales: social functioning, physical functioning, cognitive functioning, outlook on life, body image, and psychological functioning. Internal consistency (Cronbach's α) was 0.80–0.90 for individual scales and 0.95 overall. Strong intraclass correlations (0.98 overall) indicated high stability. The MMQL-Adult Form distinguished between known groups; healthy controls scored better than patients on four of six scales. The MMQL-Adult Form scales correlated highly with similar SF-36 scales, demonstrating construct validity.
Conclusions
The MMQL-Adult Form is a reliable and valid self-report instrument for measuring multidimensional HRQL in cancer survivors. Development of this instrument ensures availability of a tool enabling cross-sectional and longitudinal assessment of HRQL in childhood cancer survivors as they age.