01-03-2008 | Uitgave 1/2008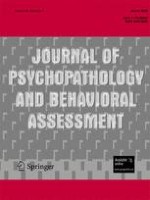 The Milwaukee Inventory for Subtypes of Trichotillomania-Adult Version (MIST-A): Development of an Instrument for the Assessment of "Focused" and "Automatic" Hair Pulling
Auteurs:

Christopher A. Flessner, Douglas W. Woods, Martin E. Franklin, Susan E. Cashin, Nancy J. Keuthen, Trichotillomania Learning Center-Scientific Advisory Board (TLC-SAB)
Belangrijke opmerkingen
In addition to three of the authors (DWW, MEF, and NJK), the TLC-SAB includes Charles S. Mansueto, Ph.D., Ethan Lerner, M. D., Ph.D., Frederick Penzel, Ph.D., Ruth Golomb, M.Ed., Suzanne Mouton-Odum, Ph.D., Carl Novak, M.D., Richard L. O'Sullivan, M.D., David Pauls, M.D., John Piacentini, Ph.D., Dan Stein, M.D., Margo Thienemann, M.D., John T. Walkup, M.D., and Harry H. Wright, M.D., M.B.A.
Abstract
This article describes the development of the Milwaukee Inventory for Subtypes of Trichotillomania-Adult Version (MIST-A), which was designed to assess "automatic" and "focused" pulling subtypes of trichotillomania (TTM). Participants reporting symptoms of TTM (
n
 = 1,697) completed an internet survey; participants were later randomly assigned to either Exploratory (
n
 = 848) or Confirmatory (
n
 = 849) Analyses. Exploratory Analyses examined the development and psychometric properties of the MIST-A. Results of an exploratory factor analysis revealed a two-factor solution. Factor 1 ("focused" pulling scale) and 2 ("automatic" pulling scale) consisted of ten and five items respectively, with both scales demonstrating adequate internal consistency and good construct and discriminant validity. Subsequent confirmatory factor analysis demonstrated support for the scale's underlying factor structure. The MIST-A provides researchers with a reliable and valid assessment of "automatic" and "focused" pulling, although replication using a clinically ascertained sample is necessary.