27-06-2020 | Original Paper | Uitgave 8/2020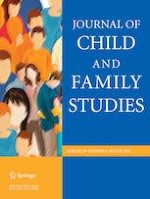 The Mediating Role of Parental Reflective Functioning in Child Social–emotional Development
Tijdschrift:
Auteurs:

Liesbet Nijssens, Nicole Vliegen, Patrick Luyten
Belangrijke opmerkingen
Publisher's note
Springer Nature remains neutral with regard to jurisdictional claims in published maps and institutional affiliations.
Abstract
Parental attachment and parental reflective functioning (PRF) have been shown to be related to attachment, mentalizing capacities, and psychopathology in children. Studies also suggest that parental insecure attachment is related to lower levels of PRF. However, no study has directly investigated whether PRF dimensions mediate the relationship between parental attachment dimensions and features of social–emotional development other than attachment, mentalizing, and psychopathology. We prospectively investigated whether PRF mediates the relationship between parental attachment dimensions (i.e., levels of attachment avoidance and anxiety) and social–emotional competences and problems, using data from a 1-year longitudinal study of first-time parents and their biological children (
N
 = 106). We found that low PRF as assessed with the Parental Reflective Functioning Questionnaire at 1-year follow-up, was an intervening variable in the relationship between parental attachment dimensions at time 1 and child social–emotional development at time 2. In particular, maternal attachment avoidance and paternal attachment anxiety were indirectly related to child competences and problems through high levels of prementalizing modes (i.e., attributing malevolent mental states to the child and an inability to enter the child's internal world). In addition, in mothers only, there was a partial mediation effect of PM in the relation between attachment anxiety and child competences.