10-11-2017 | Original Paper | Uitgave 3/2018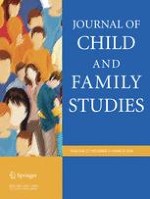 The Mediating Role of Korean Immigrant Mothers' Psychological Well-Being in the Associations between Social Support and Authoritarian Parenting Style
Tijdschrift:
Auteurs:

You Jung Seo, Charissa S. L. Cheah, Sevgi Bayram Özdemir, Craig H. Hart, Christy Y. Y. Leung, Shuyan Sun
Abstract
We examined the mediating role of Korean immigrant mothers' psychological well-being in the associations between mothers' emotional vs. instrumental support received from their kin, and their authoritarian parenting style with their preschoolers using longitudinal data. First-generation Korean immigrant mothers with preschool-aged children (
N
 = 158;
M
maternal age
 = 36.11 years, SD = 3.90;
M
child age
 = 4.43 years, SD = 1.10) residing in Maryland, U.S., participated in three assessment waves. Each assessment wave was 6 months apart. Mothers reported on the amount of perceived emotional and instrumental support they received from their kin, their behavioral acculturation towards the American culture, and their family demographic information at Wave 1, their psychological well-being at Wave 2, and their authoritarian parenting style at Wave 3. The results revealed that higher levels of perceived instrumental support (but not emotional support) received from kin predicted higher levels of maternal psychological well-being 6 months later, which in turn predicted lower levels of reported authoritarian parenting style 6 months later. Our findings highlighted the importance of psychological well-being as a mechanism that explains how instrumental support can impact Korean immigrant mothers' parenting style, and the importance of distinguishing between types of support. Services providing instrumental support (e.g., childcare assistance) for first-generation immigrant mothers, particularly those with smaller or less effective kin networks, appear important to implement.