Gepubliceerd in: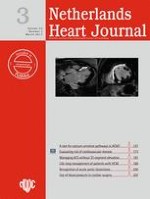 Open Access 05-01-2017 | Editorial Comment
The management of acute coronary syndromes in patients presenting without persistent ST-segment elevation: early invasive strategy for all?
Gepubliceerd in: Netherlands Heart Journal | Uitgave 3/2017
A recent analysis of 4307 NSTEMI-ACS patients from the Melbourne Interventional Group registry observed no mortality hazard in >24 h deferral of PCI during 12-month follow-up. The main predictors of mortality were older age, impaired renal function and elevated biomarkers which are highly relevant in the GRACE risk score.