25-08-2016 | Uitgave 4/2017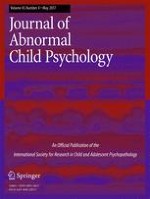 The Long-Term Effectiveness of the Family Check-up on Peer Preference: Parent-Child Interaction and Child Effortful Control as Sequential Mediators
Tijdschrift:
Auteurs:

Hyein Chang, Daniel S. Shaw, Elizabeth C. Shelleby, Thomas J. Dishion, Melvin N. Wilson
Belangrijke opmerkingen
This research was supported by grants 023245 and 2003723 from the National Institute on Drug Abuse to the third, fourth, and fifth authors. The fourth author has developed the Family Check-Up and actively supports organizations to implement the program on a non-profit basis. We are grateful to the staff and study families of the Early Steps Project for making this research possible.
Abstract
We examined the longitudinal effects of the Family Check-Up (FCU) intervention beginning in toddlerhood on children's peer preference at school-age. Specifically, a sequential mediational model was proposed in which the FCU was hypothesized to promote peer preference (i.e., higher acceptance and lower rejection by peers) in middle childhood through its positive effects on parent-child interaction and child effortful control in early childhood. Participants were 731 low-income families (49 % female). Qualities of parent-child interaction were observed during structured activities at 2 to 5 years, child effortful control was assessed using behavioral tasks at 5 years, and peer acceptance and rejection were rated by teachers at 7.5 to 10.5 years. Results indicated that the FCU indirectly predicted peer preference by sequentially improving parent-child interaction and child effortful control. The findings are discussed with respect to implications for understanding mechanisms by which early parenting-focused programs may enhance child functioning across time and context.