30-09-2020 | Empirical Research | Uitgave 2/2021 Open Access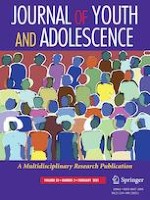 The Link between Parental Support and Adolescent Negative Mood in Daily Life: between-Person Heterogeneity in within-Person Processes
Tijdschrift:
Auteurs:

Loes H. C. Janssen, Bernet M. Elzinga, Bart Verkuil, Manon H. J. Hillegers, Loes Keijsers
Belangrijke opmerkingen
Supplementary information
Publisher's note
Springer Nature remains neutral with regard to jurisdictional claims in published maps and institutional affiliations.
Abstract
Lack of parental support is related to more adolescent negative mood. However, little is known about how fluctuations of parental support relate to fluctuations of negative mood within adolescents in daily life. The current study aimed to elucidate these processes at a day to day micro-level and examined to which extent adolescents would differ in the association between perceived parental support and adolescent negative mood. The sample consisted of 242 Dutch adolescents (
M
age
 = 13.82, 63.2% female) who completed ecological momentary assessments of 3 weeks 3 months apart. Results from the multilevel regression analyses showed that, on average, adolescents experienced higher levels of negative mood on days when they perceived their parents to be less supportive. Substantial individual differences were found in this association, however, these were partially explained by the level of depressive symptoms and perceived parental intrusiveness. These findings suggest that advice on parental support should be tailored to the unique characteristics of the adolescent.