15-03-2017 | Original Paper | Uitgave 5/2017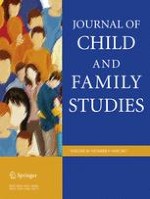 The Influences of Parent and Peer Attachment on Bullying
Tijdschrift:
Auteurs:

Tia Panfile Murphy, Deborah Laible, Mairin Augustine
Abstract
Individuals with secure attachments to parents and peers are less likely to be bullies and victims of bullying. The current study examined the interplay between gender, parent attachment, and peer attachment as factors related to roles (bullying involvement, defending a victim, and outsider) during bullying. One-hundred forty-eight adolescents (
M
age = 15.68) completed surveys about parent and peer attachment and roles during bullying. Findings indicated that females were less likely than males to be involved in bullying and were more likely than males to defend a victim or be an outsider (
p
s < .05). Greater attachment security to parents and peers was associated with less involvement in bullying and greater defending of victims (
p
s < .05). Additionally, a significant three-way interaction demonstrated that greater peer attachment security predicted less bullying involvement for those with lower parent attachment security (
p
 < .05), but not for those with higher parent attachment security (
p
 > .05). However, this was only true for males (
p
 < .01). These results indicate that having a secure attachment to peers may be a potential protective factor against bullying involvement for males with insecure attachments to parents. Future research should examine the possible mechanisms involved in the association between attachment and bullying, such as empathy, aggression, or social information processing.