01-12-2016 | Research | Uitgave 1/2016 Open Access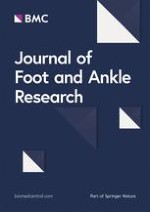 The influence of insoles with a peroneal pressure point on the electromyographic activity of tibialis anterior and peroneus longus during gait
Tijdschrift:
Auteurs:

Oliver Ludwig, Jens Kelm, Michael Fröhlich
Background
There is still no evidence of the effectiveness of these insoles on a neurophysiological level. Therefore, this study aimed to investigate whether the activity of the peroneus longus and tibialis anterior muscle in the stance phase can be influenced directly by specific lateral pressure points in customised orthopaedic insoles.
Methods
Results
The activation pattern for peroneus longus showed peaks at initial contact and at push-off. There were no significant differences in the time or the maximum amplitude of both these activation peaks in the 'insole' and 'control' test variants (Table
2
). At no point during the gait cycle were there any significant differences in the activity of the tibialis anterior muscle.
Table 2
Activity of the peroneus longus and the tibialis anterior muscle (mean ± SD),
N
 = 34, CI = 95 % confidence intervals for the paired differences
Control

Sensorimotor insole

Paired difference

95 % CI

Peroneus longus

Initial contact

time (% stance phase)

0.48 ± 4.53

1.53 ± 4.54

1.95 ± 2.67

1.05–2.85

0.179

amplitude (% MVC)

28.78 ± 10.73

27.17 ± 10.09

−1.61 ± 3.43

−2.76– −0.46

0.117

Mid-stance

time (% stance phase)

–

29.67 ± 4.51

–

–

–

amplitude (% MVC)

16.47 ± 7.51

21.79 ± 9.98

5.33 ± 6.08

3.29–7.37

<0.001

Push-off

time (% stance phase)

74.32 ± 6.04

74.50 ± 8.03

0.18 ± 6.10

−1.87–2.23

0.890

amplitude (% MVC)

68.96 ± 21.00

65.80 ± 20.66

0.17 ± 7.67

−2.41–2.75

0.920

Tibialis anterior

Initial contact

amplitude (% MVC) at 0 % stance phase

39.08 ± 9.87

37.04 ± 9.55

2.04 ± 8.27

−0.74–4. 82

0.160

Mid-stance

amplitude (% MVC) at 30 % stance phase

4.40 ± 3.38

4.56 ± 3.31

−0.16 ± 3.63

−1.38–1.06

0.797
In 27 of the 34 participants, an additional activation peak of the peroneus longus muscle occurred in the loading response phase with the sensorimotor insole, which, on average, reached its maximum at 29.7 % (±4.5 %) during mid-stance (Fig.
4
). Based on the average of all 34 participants, a significant difference was identified between the EMG amplitudes of the 'insole' and 'control' variants during this gait phase (Table
2
). For peroneus longus in the mid-stance phase, the iEMG revealed a significantly higher activity (
p
 < 0.001, post hoc power = 0.98) with the sensorimotor insoles (18.1 ± 11.3 % MVCs) than with the control insoles (11.2 ± 7.7 % MVCs, Fig.
5
). The effect size (Cohen's d) was 0.71, which indicates a large effect. No significant effects were found for the other gait phases or for the tibialis anterior.
×
×
No statistically significant differences could be established (
t
 = 1.1,
df
 = 32,
p
 = 0.205) between the intra-individual differences for maximum amplitude in the sub-groups that started the tests with the control insole or the sensorimotor insole; homogeneous variances were present (
F
 = 1.842,
df
 = 1,
p
 = 0.349). Therefore, confounding effects resulting from the order in which insoles were worn could be ruled out [
38
,
39
].
Discussion
The purpose of this study was to investigate whether specific changes in muscle activity during gait could be generated by so-called sensorimotor insoles. Since we wanted to examine possible basic physiological effects, we chose healthy participants with normal foot posture and function.
Conclusion
In this study, we were able to demonstrate that a gait phase dependent increase in the activity of the peroneus longus muscle is possible using a customised orthopaedic insole with a lateral pressure point. Changes of afferent sensory information, which are caused by the pressure from the orthopedic insole, could be responsible for the observed changes in peroneus longus activation. This assumption is based on the fact that activity only increased during the loading response/mid-stance phase and that tibialis posterior activity was not influenced.
Acknowledgements
The authors wish to thank Stefan Woltring for customising the insoles, Roman Quadflieg and Michael Koch for their assistance with data collection, and Monika Schutz for translating the manuscript.
Authors' contributions
OL was responsible for the conception and design, acquisition, analysis, and interpretation of data, and he prepared the manuscript. JK contributed to the interpretation of data and revised the manuscript. MF performed the statistical analysis and contributed to the interpretation of data. All authors read and approved the final manuscript.
Competing interests
The mouldings for the insoles were kindly supplied by Springer Aktiv GmbH in Berlin, Germany.
Open Access
This article is distributed under the terms of the Creative Commons Attribution 4.0 International License (
http://​creativecommons.​org/​licenses/​by/​4.​0/​
), which permits unrestricted use, distribution, and reproduction in any medium, provided you give appropriate credit to the original author(s) and the source, provide a link to the Creative Commons license, and indicate if changes were made. The Creative Commons Public Domain Dedication waiver (
http://​creativecommons.​org/​publicdomain/​zero/​1.​0/​
) applies to the data made available in this article, unless otherwise stated.