01-08-2014 | Original Article | Uitgave 4/2014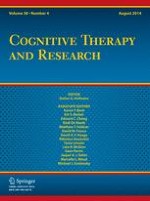 The Influence of Body Dissatisfaction on Set Shifting Ability
Tijdschrift:
Auteurs:

Megan B. Harney, Anna M. Bardone-Cone
Belangrijke opmerkingen
This work was presented in part at the annual conference of the Academy for Eating Disorders, March 2014, New York, NY.
Abstract
Set shifting, or the ability to shift back and forth between multiple tasks or mental sets, has been shown to be impaired in individuals with eating disorders. The purpose of this study was to experimentally examine set shifting among acutely body dissatisfied women. Participants included 146 undergraduate women selected for self-reported high or low body shame. Each participant was randomized to one of three still-image induction groups: body dissatisfaction, negative affect, or neutral affect. Immediately following the induction, participants were administered the Wisconsin Card Sorting Test (WCST) to assess set shifting. A 2 (high vs. low body shame) × 3 (induction group condition) ANOVA was conducted on the total number of WCST perseverative errors. The results suggest that for women who feel relatively satisfied with their bodies, thin ideal or negative affective images do not impact set shifting performance. However, for women who experience body shame, acute body dissatisfaction and negative affect may impact executive functioning as demonstrated by set shifting performance. In other words, women who endorse body shame may have difficulty shifting set during moments of increased negative affect, regardless of the general or body-specific nature of the negative affect.