Gepubliceerd in: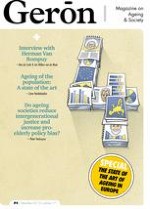 01-12-2015
The Impact of the European Year 2012 on Active Ageing and Solidarity between Generations: A Critical Assessment
Gepubliceerd in: Geron | bijlage 1/2015
Abstract
Which were the results of the European Year 2012? Did it make older people more visible in EU policy?
Anne-Sophie Parent
is Secretary General of AGE Platform Europe. She is also a member of several EC-committees on ageing, demography, pension and health.
E-mail:annesophie.parent@age-platform.eu
Almost three years have passed since the European Year 2012 on Active ageing (EY2012) ended; the right length of time to assess what impact it has had both on EU policies, and at national and local level. In September 2015, the European Parliament adopted its own assessment of the Year (European Parliament,
2015
), the European Commission published its report on the implementation, results and overall assessment of the Year already in September 2014 (European Commission,
2014
).
The EY2012 has delivered significant positive outcomes
Overall, the EY2012 is perceived by the European Parliament, the European Commission and AGE Platform Europe as having had a significant impact, in particular at EU level and at local level where it has gathered momentum for active and healthy ageing and has promoted a more positive image of older people, who unfortunately are still often pictured by economists and in the media as a burden to society.
Being celebrated four years after the beginning of the worst financial and economic crisis the EU has ever experienced, the EY2012 helped raise awareness of the huge demographic challenge European countries are facing and of the need to adapt the way our societies are organized to cope with the changes in the population structure. This increased awareness is however double-edged and has triggered heated debates on intergenerational solidarity and fairness, and on the need to reform national social protection systems to make them more sustainable on the long term.
An important initiative, welcomed by AGE Platform Europe, is the European Innovation Partnership for Active and healthy Ageing (EIP-AHA) launched by the European Commission in November 2011 with the aim to increase by two the average healthy life span in Europe by 2020. Thanks to the political momentum of the EY2012, it managed quickly to gather a great variety of stakeholders interested to work together to support active and healthy ageing through grass-root initiatives and has helped a lot to raise awareness of the value of active and healthy ageing and the need to take action in various areas. A tangible positive outcome of the EY2012 is the growing thematic network set up by the AFE-INNOVNET project which brings together already more than 320 members: local and regional authorities, WHO, research centers and universities, civil society organizations and industries. This network will launch the European Covenant on Demographic Change in December 2015. Building on the outcomes of the AFE-INNOVNET project (
www.afeinnovnet.eu
), the Covenant will gather in a more formal structure all local, regional and national authorities, and other stakeholders, that commit to cooperate and implement evidence-based solutions to support active and healthy ageing as a comprehensive answer to Europe's demographic challenge. The EIP-AHA has also triggered initiatives at EU level to create a European 'silver economy' which is starting to take shape and should support the scaling up of innovative products and services for our ageing population.
Older people's rights remain invisible at EU level
On other areas, the EY2012 has been less successful, for example on combating age discrimination older workers experience in the labour market. The equal treatment directive in access to employment adopted in 2000 - and which forbids employers to discriminate against workers on the ground of their age - was starting to deliver positive results and the employment rate among the 55+ was improving in the mid 2000'. But since the crisis has started, older workers are again faced with age discrimination and those who lose their job tend to remain trapped in long-term unemployment.
Neither has the EY2012 helped move forward the debate on the proposal for an equal treatment directive in access to goods and services tabled by the European Commission in 2008, following an active campaign of EU non-discrimination NGOs. This draft directive is still blocked at the Council mainly due to some Member States' fear of its potential impact on public budgets since it covers equal access to goods and services for persons with disabilities and because of the complexity of age discrimination in access to goods and services.
Meanwhile however, the EU – which has acquired legal personality – has signed and ratified the United Nations Convention on the Rights of Persons with Disabilities (UNCRPD), and so have 25 (out of 28) EU member States. This means that the EU and the 25 EU countries that have ratified the UNCRPD now have the legal duty to take action to respect and promote the rights of persons with disabilities in their policies and practices.
The UN-CRPD covers also older persons who encounter functional limitations, frailty or disability. It requires states to provide services to prevent and minimize further disabilities among older people, and to ensure older people with disabilities have access to retirement benefits and programmes. It includes a number of provisions that illustrate the need to take into account old age and the specific situation of older persons, in particular on age-appropriate accommodations for access to justice, on age-sensitive assistance to prevent abuse, on health services to minimize and prevent further disabilities, and aiming to ensure access by older persons with disabilities to social protection programs and poverty reduction programs (AGE Platform Europe, 2015).
The UN-CRPD also requires that states consult with organizations of persons with disabilities and older people's organizations. However few older people in Europe know that both the EU and their national government have the duty to ensure that older people with limitations are equally protected by the UN-CRPD. This means that in some countries, older persons with disabilities continue to face age limits which prevent them from enjoying the same rights than younger persons with disabilities. This is a form of age discrimination that the EU should tackle by issuing guidelines to Member States reminding them that the UN-CRPD applies to persons with disabilities regardless of their age and how this can be translated into practice.
The EU has also taken quite a conservative position in the UN Open-Ended Working Group on Ageing since it was established in 2010 to "consider the existing international framework of the human rights of older persons and identify possible gaps and how best to address them, including by considering, as appropriate, the feasibility of further instruments and measures " (
http://social.un.org/ageing-working-group/
). The EU argues that there are no normative gaps in the existing legal framework, only implementation gaps, and older people enjoy the same rights as anybody else.
Despite all the work done internally during and after the EY2012 to raise awareness of the challenges faced by older people to enjoy their rights on an equal basis as other age groups, and despite the magnitude of the demographic change Europe is experiencing, the new European Commission has not included the rights of older people in its current work priorities and is concentrating its action on the rights of children, women, persons with disabilities. It was thanks to AGE repeated action that for the first time in 2015 the EC annual report on the implementation of the EU Charter of Fundamental Rights included a chapter on what the EU is doing with regard to Art. 25 on the rights of older people to live in dignity.
EU austerity measures have a negative impact on older people's rights
Although the European Charter of Fundamental Rights declares the rights of older people to live a life of dignity and independence, the pressure on public budgets through the European Semester reforms are increasing the risk of human rights violations against older persons. Their disposable income is decreasing as they have to spend more money 'out of their pocket' on various services e.g. health or long-term care, transport, etc. that used to be provided for free or highly subsidized.
Gender equality in old age is also endangered by pension reforms which impose a stricter link between contributions made and pension benefits. This is a crucial issue for older women. The gender pension gap is already around 40% and risks are rising if nothing is done to compensate for the inequalities women face all along their life due to caring career breaks and to bridge the gender pay gap which is still 19% on average.
Age Platform Europe is a European network with more than 150 organizations representing directly more than 40 million older people in Europe. AGE aims to voice and promote the interests of the 190 million inhabitants aged 50+ in the European Union and to raise awareness of the issues that concern them most.
To conclude we can say that the EY2012 has delivered positive outcomes but the impact of the on-going crisis and the current refugee crisis make older people more invisible than ever in EU policy debates.