19-03-2018 | ORIGINAL PAPER | Uitgave 6/2018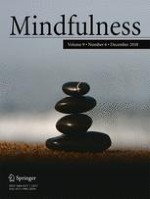 The Impact of Self-Compassion on Shame-Proneness in Social Anxiety
Tijdschrift:
Auteurs:

Diana-Mirela Cȃndea, Aurora Szentágotai-Tătar
Abstract
Self-compassion is conceptualized as a particularly useful strategy in regulating shame. However, only a limited number of studies have investigated its effect on shame and shame-proneness. Also, it is not clear if this strategy is equally effective as other well-established techniques used for regulating basic emotions. The aim of the present study was to compare the efficacy of a self-compassion intervention, a cognitive reappraisal intervention, and a wait-list condition in reducing shame-proneness and social anxiety in a high socially anxious undergraduate sample. Participants (
N
 = 136; 88.23% women; mean age = 21.85) completed a 2-week self-compassion or cognitive reappraisal online training in which they were asked to describe a negative event that had happened to them in the past 2 days and then reconsider the situation based on instructions received both in video and written format. Self-ratings of social anxiety symptoms, shame-proneness, trait self-compassion, and irrational beliefs were conducted before and after the training. We also explored the impact of the training on the level of state emotions following a laboratory shame-induction procedure. Both self-compassion and cognitive reappraisal significantly reduced shame-proneness and irrational beliefs from pre- to post-training, while social anxiety symptoms significantly decreased in the self-compassion condition. No significant between-group differences for these outcomes were observed. Self-compassion might be an alternative strategy for cognitive reappraisal in the management of shame-proneness and social anxiety.