24-02-2018 | Uitgave 6/2018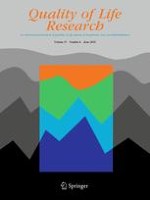 The impact of caregiver's role preference on decisional conflicts and psychiatric distresses in decision making to help caregiver's disclosure of terminal disease status
Tijdschrift:
Auteurs:

Shin Hye Yoo, Young Ho Yun, Kyoung-Nam Kim, Jung Lim Lee, Jeanno Park, Youn Seon Choi, Yeun Keun Lim, Samyong Kim, Hyun Sik Jeong, Jung Hun Kang, Ho-Suk Oh, Ji Chan Park, Si-Young Kim, Hong Suk Song, Keun Seok Lee, Dae Seog Heo, Young Seon Hong
Belangrijke opmerkingen
Electronic supplementary material
The abstract of this study (not full text) was presented in part at the 53rd Annual Meeting of the American Society of Clinical Oncology, Chicago, IL, June 2–6, 2017.
Abstract
Purpose
The objective of this study was to investigate the impact of caregivers' role preference in decision making on conflicts and psychiatric distresses.
Methods
The responses of 406 caregivers of terminal cancer patients enrolled in a trial determining the efficacy of a decision aid focused on the disclosure of terminal disease status were included in this secondary analysis. The outcomes include the change scores of the Decision Conflict Scale (DCS) and depression and anxiety subscales of the Hospital Anxiety and Depression Scale (HADS) at the 1 and 3 months from baseline. The linear mixed model was employed to discover the impact of caregivers' decisional role preference on the outcomes.
Findings
Of the 406, 137 (33.7%) showed an active role preference and 269 (66.3%) showed a passive role preference. In the post hoc analysis of the adjusted differences of change scores between passive caregivers who received decision aid (passive-decision aid) and active caregivers with decision aid (active-decision aid), non-significant differences were observed in the DCS. However, at the 3-month, the change scores of the HADS depression subscale increased by 4.43 (effect size, 0.71) and those of the HADS anxiety subscale increased by 4.14 (effect size, 0.61) in the passive-decision aid group than in active-decision aid group, showing moderate to large difference.
Conclusions
These findings suggest that information might be ethically recommended in a format that is interactive and tailored to how much an individual wishes to be involved in the decision-making process.