01-11-2014 | Brief Communication | Uitgave 9/2014 Open Access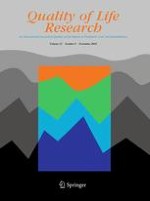 The Hunter Syndrome-Functional Outcomes for Clinical Understanding Scale (HS-FOCUS) Questionnaire: item reduction and further validation
Tijdschrift:
Auteurs:

Ingela Wiklund, Mireia Raluy-Callado, Wen-Hung Chen, Joseph Muenzer, Juanzhi Fang, David Whiteman
Abstract
Purpose
The Hunter Syndrome-Functional Outcomes for Clinical Understanding Scale (HS-FOCUS) Questionnaire is a patient and parent-completed disease-specific instrument used in Hunter syndrome (mucopolysaccharidosis II), a rare paediatric progressive multi-systemic lysosomal storage disease. The objective of this study was to shorten the number of items of the Questionnaire to reduce response burden while maintaining its content validity.
Methods
Data collected in a clinical trial were used. An iterative process helped identifying redundant or low performing items based on content validity and psychometric properties. Validation on the retained items was assessed using patients and parent's responses in terms of reliability, validity and responsiveness.
Results
The HS-FOCUS was completed by 49 patients and 84 parents. Items were mainly removed owing to high floor effects, high inter-item correlations (>0.80) or inadequate content. The shortened patient and parent versions (18 and 21 items) each contained five function domains. Internal consistency and test–retest reliability were >0.70 for most domains, except Breathing and School/work. Concurrent validity was demonstrated by significant correlations (>0.30) with similar concepts of previously validated measures. Significant differences were found in all domain scores across levels of disability.
Conclusions
The shortened HS-FOCUS is a reliable, valid and responsive measure, where burden in answering the Questionnaire was reduced without compromising its validity.