12-01-2016 | Original Article - Design Study Article | Uitgave 2/2016 Open Access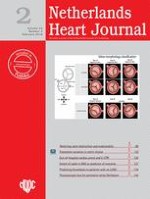 The extent of the raphe in bicuspid aortic valves is associated with aortic regurgitation and aortic root dilatation
Tijdschrift:
Auteurs:

W. M. C. Koenraadt, N. Grewal, O. Y. Gaidoukevitch, M. C. DeRuiter, A. C. Gittenberger-de Groot, M. M. Bartelings, E. R. Holman, R. J. M. Klautz, M. J. Schalij, M. R. M. Jongbloed
Belangrijke opmerkingen
Drs. Koenraadt and Grewal contributed equally to this work.
Introduction
Methods
Statistical analysis
All collected data were registered in a Microsoft Office Access 2003 database. The database was exported into IBM SPSS Statistics Version 20 for computing variables and statistical analysis. Independent samples T-tests were used to compare means of numerical data in two categories. One-way ANOVA tests were used for comparing numerical data in more than two categories. Cross-tabulations were made for binary categorical data, on which chi-square goodness-of-fit-tests were performed to test for independence. For sets of independent numerical data linear regression analysis was used to evaluate trends. Similarly, trends for binary categories were evaluated with binary logistic regression to correct for possible confounding factors such as age and gender. All statistical analyses were two-tailed and considered significant if
p
 < 0.05.
Results
Discussion
Key findings of this study are (1) Patients with type 1A BAV and a complete raphe show more aortic regurgitation and root dilatation as compared with the rest of the study population; (2) The majority of CoA patients have an incomplete raphe and smaller aortic root diameters and less valve regurgitation.
Extent of the raphe as predictor of outcome
An association has been described between aortic stenosis and type 2 BAVs [
12
,
20
]; however, in those studies no distinction was made between the presence or not of a raphe. In the current study, the same trend was seen, but this finding was not significant (
p
 = 0.252). Also a relation has been shown between type 1A BAVs and aortic regurgitation [
21
], which is in line with the current study. The most important findings of the current study, however, were related to the
extent
of the raphe. A complete raphe predisposed for larger aortic diameters and more valve regurgitation. To our knowledge, the extent of a raphe in BAV disease has not been studied previously as a prognostic factor. The worse outcome observed in patients with a complete raphe is possibly due to the fact that BAVs with incomplete raphes have a more physiological, tricuspid-like opening and therefore function better. BAVs with complete raphes seem to have more unevenly sized leaflets and smaller openings which may predispose to valve dysfunction.
Type 1A BAVs have been related to aortic sinus dilatation -which is in line with the current study- and type 2A BAVs have been associated with dilatation of the ascending aorta [
9
,
11
,
13
]. However, none of these studies take into account the extent of the raphe. The current study showed a significant difference in ascending aorta diameter between BAVs with a complete versus incomplete raphe. Differences in dilation might therefore be explained by the extent of the raphe, e.g. due to altered flow, although this remains speculative at this point.
Patients with type 1A BAVs and a complete raphe showed significantly more regurgitation and root dilation as compared with the rest of the study population. Therefore, type 1A BAVs can be regarded as the valve orientation with the highest risk, which is in line with previous studies [
11
,
22
,
23
]. This indicates that type 1A BAVs that also have a complete raphe should even be monitored more closely for valve regurgitation and aortopathy.
Effect of CoA on BAV morphology and outcome
Subgroup analysis of the CoA group revealed that these patients are on average 9 years younger than the rest of the study population, which may be explained by the fact that these patients usually show symptoms earlier and are often referred from the paediatric cardiologist as soon as they reach adulthood. The prevalence of BAV in CoA patients is an estimated 60 % [
4
,
5
]. The majority of patients in the current study had type 1A BAV, which corresponds to reports in the literature [
15
]. CoA patients had smaller aortic root diameters and less valve regurgitation, which might be explained by the fact that less CoA patients had a BAV with a complete raphe. Another explanation for the smaller aortic root diameters could be the younger age of CoA patients. The prevalence of stenosis was similar in the CoA group compared with the rest of the study population. This in contrast to earlier research which found an association between CoA and valve dysfunction [
5
], although in that study the extent of raphe was not taken into account.
Study limitations
This was a retrospective analysis of clinically obtained patient data derived from a single centre. A retrospective analysis is subjected to selection bias, as the investigator self-selects the cases. All patients were followed in a tertiary referral centre, which may have led to a selection bias of more severely affected patients. Both biases were minimised by including consecutive BAV patients who underwent echocardiography between 2005 and 2010.
Conclusions and clinical implications
This study shows that the extent of the raphe is of clinical importance, as a complete raphe predisposes to more valvular dysfunction and aortopathy. Moreover, patients with type 1A BAV and a complete raphe show more aortic regurgitation and root dilatation as compared with the rest of the study population. This could indicate that this group of patients needs closer monitoring and more regular follow-up.
On the other hand, this study shows that patients with a bicuspid aortic valve and coarctation of the aorta have smaller aortic root diameters and less valve regurgitation, possibly due to the fact that in this group of patients the majority have an incomplete raphe.
Table 6
Characteristics of patients with type 1A bicuspid aortic valves (BAVs) with coarctation of the aorta (CoA) versus without CoA
| Variable | CoA | No CoA | |
| --- | --- | --- | --- |
| | 22 (56.4 %) | 129 (59.7 %) | NS |
| Raphe | | | 0.003 |
| | 16 (72.7 %) | 50 (38.8 %) | |
| | 6 (27.3 %) | 79 (61.2 %) | |
| Ascendens (mm) | 33.3 ± 6.06 | 37.8 ± 6.78 | < 0.001 |
| Arch (mm) | 25.5 ± 4.77 | 30.2 ± 4.98 | < 0.001 |
| Valve regurgitation | 3 (13.6 %) | 72 (55.8 %) | < 0.001 |
| Valve stenosis | 10 (45.5 %) | 56 (43.4 % | NS |
Acknowledgments
We thank Ron Slagter for drawing Fig.
1
of this manuscript, Bert Wisse for designing the database and Ron Wolterbeek for reviewing the statistics.
Conflict of interests
None declared.
Open Access
This article is distributed under the terms of the Creative Commons Attribution 4.0 International License (
http://​creativecommons.​org/​licenses/​by/​4.​0/​
), which permits unrestricted use, distribution, and reproduction in any medium, provided you give appropriate credit to the original author(s) and the source, provide a link to the Creative Commons license, and indicate if changes were made.