01-09-2016 | Brief Communication | Uitgave 9/2016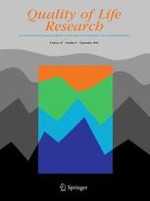 The European Portuguese WHOQOL-OLD module and the new facet Family/Family life: reliability and validity studies
Tijdschrift:
Auteurs:

Manuela Vilar, Liliana B. Sousa, Mário R. Simões
Abstract
Purpose
The aim of this study was to examine the psychometric properties of the European Portuguese version of the
World Health Organization Quality of Life
-
Older Adults Module
(WHOQOL-OLD). The European Portuguese WHOQOL-OLD includes a new identified facet,
Family/Family life.
Methods
A convenience sample of older adults was recruited (
N
= 921). The assessment protocol included demographics, self-perceived health, depressive symptoms (GDS-30), cognitive function (ACE-R), daily life activities (IAFAI), health status (SF-12) and QoL (WHOQOL-Bref, EUROHIS-QOL-8 and WHOQOL-OLD).
Results
The internal consistency was excellent for the total 24-item WHOQOL-OLD original version and also for the final 28-item European Portuguese WHOQOL-OLD version. The test–retest reliability for total scores was good. The construct validity of the European Portuguese WHOQOL-OLD was supported in the correlation matrix analysis. The results indicated good convergent/divergent validity. The WHOQOL-OLD scores differentiated groups of older adults who were healthy/unhealthy and without/mild/severe depressive symptoms. The new facet,
Family/Family life
, presented evidence of good reliability and validity parameters.
Conclusion
Comparatively to international studies, the European Portuguese WHOQOL-OLD version showed similar and/or better psychometric properties. The new facet,
Family/Family life
, introduces cross-cultural specificity to the study of QoL of older adults and generally improves the psychometric robustness of the WHOQOL-OLD.