01-11-2014 | Uitgave 8/2014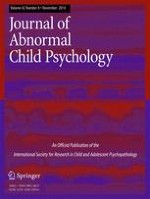 The Etiology of the Association Between Child Antisocial Behavior and Maternal Negativity Varies Across Aggressive and Non-Aggressive Rule-Breaking Forms of Antisocial Behavior
Tijdschrift:
Auteurs:

Ashlea M. Klahr, Kelly L. Klump, S. Alexandra Burt
Abstract
There is a robust association between negative parenting and child antisocial behavior problems. However, the etiology of this association remains unclear. Extant literature has reported strikingly different conclusions across studies, with some highlighting genetic mediation and others highlighting environmental mediation. One possible reason for these discrepancies across studies may be the failure to differentiate between aggressive and non-aggressive (rule-breaking) dimensions of childhood antisocial behavior, given their notably different etiologies and developmental trajectories (Burt
2012
). The current study sought to examine the phenotypic and etiologic associations of maternal negativity with aggressive and rule-breaking antisocial behavior, respectively. Participants included 824 mothers and their twin children between the ages of 6 and 10. Our results highlighted clear etiologic distinctions in the associations of aggression and rule-breaking with maternal negativity. Aggression was associated with maternal negativity via both genetic and environmental factors, whereas the association between non-aggressive rule-breaking and maternal negativity was entirely environmental in origin. These findings provide additional support for the presence of meaningful distinctions between aggressive and non-aggressive forms of antisocial behavior, and highlight the complex relationship between parenting and child outcome.