31-07-2019 | Original Paper | Uitgave 12/2019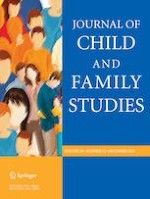 The Effects of Maternal and Paternal Helicopter Parenting on the Self-determination and Well-being of Emerging Adults
Tijdschrift:
Auteurs:

Holly H. Schiffrin, Mindy J. Erchull, Erynn Sendrick, Jennaveve C. Yost, Victoria Power, Emily R. Saldanha
Belangrijke opmerkingen
Publisher's note:
Springer Nature remains neutral with regard to jurisdictional claims in published maps and institutional affiliations.
Abstract
Objectives
We examined gender differences in helicopter parenting and emerging adults' well-being through the basic psychological needs of autonomy, competence, and relatedness. Based on gender congruence theory, we hypothesized that daughters' well-being would be more adversely impacted by their mothers' helicopter parenting compared to fathers', while the opposite pattern would emerge for sons.
Method
Participants were 446 college students between 18–25 years old who completed an online survey. The majority of participants were white, female, underclassman from middle to upper-middle class families.
Results
Participants reported that their mothers engaged in more helicopter parenting than their fathers. Male and female participants did not differ in the amount of helicopter parenting they experienced, so we tested a model combining these sub-samples. Two minor differences were identified: Daughters reported maternal helicopter parenting was more strongly associated with decreased autonomy and sons reported paternal helicopter parenting was more strongly associated with a decreased relatedness. Thus, a partial equivalence model was tested with only these two paths free to vary between groups. Maternal helicopter parenting was indirectly associated with their children's reduced well-being on all three measures (i.e., anxiety, depression, and satisfaction with life) through a reduced sense of autonomy and competence. Paternal helicopter parenting was only indirectly associated with their offspring's well-being through autonomy.
Conclusions
Results supported prior research suggesting helicopter parenting adversely affects emerging adults' well-being through its negative impact on the basic psychological needs of self-determination. There was limited support for gender differences in the impact of helicopter parenting on emerging adults.