21-04-2016 | Original Article | Uitgave 2/2017 Open Access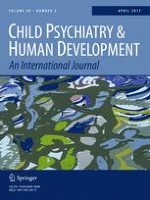 The Effects of Intranasal Oxytocin Administration on Sensitive Caregiving in Mothers with Postnatal Depression
Tijdschrift:
Auteurs:

Beth L. Mah, Marinus H. Van Ijzendoorn, Dorothee Out, Roger Smith, Marian J. Bakermans-Kranenburg
Abbreviations
EPNDS
Edinburgh postnatal depression scale
Introduction
Method
Procedure
Twenty-five mothers (mean age 28.24 years,
SD
= 5.93, range 19–38) participated in the double-blind, placebo-controlled, within-subject design. All participants received intranasal OT and placebo on separate visits to investigate the effects of OT on response to infant crying and the interaction with their child. The participants were recruited from various health agencies, and all had a diagnosis of PND. Infants participating in the study were aged between 3 and 12 months (mean age 6.22 months,
SD
= 2.44). Stenlake Compounding Chemist (Bondi, Australia) produced both the OT and placebo, bottling the two in identical containers for double blind purposes. Roughly half the participants received OT during the first visit. Randomisation was conducted using block design and participants were stratified according to whether they were prescribed anti-depressant medication or not. The master file was held by Stenlake pharmacy until completion of the trial. The study was registered with the Therapeutic Goods Administration, Australian Government, Trial number: 2011/0165. The study protocol was approved by the Hunter New England Human Research Ethics Committee. All mothers gave written informed consent before their participation. This informed consent included their infant.
The day before initial attendance, each participant was telephoned and completed the Edinburgh Post Natal Depression Scale (EPNDS [
41
]) to establish that symptoms were current, with a cutoff score of 12. On arrival a single dose of 24 IU OT or placebo nasal spray was administered. Forty-five minutes later participants completed a video-taped play session to measure Maternal Sensitivity [
2
]. This dose given to community women showed that saliva levels peak about 1 h after administration and are detectable 7 h later [
42
]. A meta-analysis of intra-nasal OT administration studies found that in the overwhelming majority of studies a dose of 24 IU was used [
43
]. A delay of 35–50 min between OT administration and observation of outcome was used. During the waiting time between intranasal spray and play session, on the first visit, the mothers provided written demographic and pregnancy/delivery related information. They also completed a self-report questionnaire to establish occurrence of child abuse and neglect during their past (Conflict Tactic Scales: Parent–Child Version [
44
]. The play sessions lasted 10 min and included 5 min each of playing with and without toys. Mothers were given the instruction to 'play with their infant as they normally would at home', knowing they were being videotaped. Immediately following the play session the Cry Paradigm [
45
] computer based rating of audio-taped newborn cries, was administered.
Participants underwent both the OT and the placebo conditions with an interval of 1 week in a balanced within-subject design. Both sessions took place within a clinical setting for families with young children (the Parent and Infant Mental Health Service, Wallsend, NSW, Australia).
Participants
Participants with a range of social demographic factors were included in this study (see Table
1
). Income levels, educational levels, age of mother and cohabitation status were all broadly represented. Three participants were using oral contraceptives (OCP).
Table 1
Participant characteristics
| | Mean | SD | Percent |
| --- | --- | --- | --- |
| Gestational age (weeks) | 38.25 | 3.92 | |
| Birth weight (kg) | 3.1 | 0.97 | |
| Delivery: NVDa (vs. Cesarian) | | | 81.3 |
| Gender: Female | | | 55.6 |
| Feeding: Breast fed (vs. bottle fed) | | | 37.5 |
| Family status: cohabitation (vs. single) | | | 68.8 |
| Annual household income: >AUD$b 100,000 | | | 12.5 |
| <AUD$ 20,000 | | | 31.3 |
| Years of higher education | 5.28 | 0.89 | |
| Aboriginal | | | 6.25 |
| Receiving depression Rx | | | 62.5 |
Measures
Analyses
Statistical analyses were performed using SPSS 19 software. Repeated measures ANOVA were performed to evaluate the effects of oxytocin or placebo on both mothers' sensitive behavior and cry paradigm outcomes. Experiences of physical abuse during childhood was tested as a moderator and EPNDS score tested as a covariate. In the repeated measures ANOVA, effect size (eta-squared) was computed as the ratio between sum of squares of conditions divided by the sum of squares of conditions plus sum of squares of the error component.
Results
Background Variables
The following background variables were not associated with mothers' sensitive behavior or cry paradigm outcomes: baby's age, baby's gender, baby's birth weight, duration of gestation, mode of delivery, and whether the mother was lactating. There were also no significant associations between maternal sensitivity or cry paradigm results and how many years of schooling the mother had received, maternal age, and whether she was taking antidepressant medication or not. Income was positively associated with observed sensitivity in the OT condition (
p
= .02), so the analyses for sensitivity were controlled for income. Similarly, the analysis on intended positive caregiving at 900 Hz was controlled for level of depression (EPNDS score at the first visit) to take the positive correlation between the two variables (
p
= .04) into account.
Maternal Sensitivity and Intrusiveness
A multivariate repeated measures of variance was performed on the sensitivity and non-intrusiveness scales as dependent variables with condition (OT or placebo) as a within subject factor. The results were not significant (
p
= .36,
η
2
= .04 for maternal sensitivity and
p
= .45,
η
2
= .02 for non-intrusiveness). Income was not a significant covariate, and childhood severe physical abuse did not moderate the effect.
Perception of Cry Sounds
A multivariate repeated measures of variance with perception as a dependent variable and condition (OT or placebo) as a within-subject factor showed a significant effect of condition for the perception of the 500 Hz cry (
F
(1,24) = 4.97,
p
= .04,
η
2
= .17). Mothers rated the infant cry as more urgent in the OT condition as compared to the placebo condition. Experiences of physical abuse during childhood did not moderate the effect. OT did not significantly affect the perception of the 700 Hz cry or the 900 Hz sound and experiences of physical abuse during childhood did not moderate results for these frequencies either.
Intended Care Giving
For intended positive caregiving, we did not find an effect of OT for the 500 Hz cry sound,
F
(1,24) = 0.32,
p
= .58,
η
2
= .01. For harsh caregiving however, mothers were more likely to be harsh in the OT condition,
F
(1,24) = 5.60,
p
= .03,
η
2
= .19 (see Fig.
1
). Nineteen percent of the variance in intended harsh caregiving is explained by the OT condition. Results were not moderated by a history of childhood physical abuse. For the other fundamental frequencies (700 and 900 Hz) no effects of OT administration were found. Again findings were not moderated by childhood physical abuse and EPNDS score was not a significant covariate.
×
Discussion
The majority of our findings were not significant. However the combination of our significant findings, in this vulnerable population, are concerning. We found that in the OT condition, mothers with a diagnosis of PND rated a naturalistic newborn cry as more urgent than in the placebo condition. We also found that in the OT condition subjects in this clinical sample were more likely to choose a harsh caregiving strategy in response to the 500 Hz cry sound. There was no effect of OT on observed maternal sensitivity.
Summary
In conclusion, this study found that OT has significant effects on the perception of urgency and on the choice of a parenting strategy in response to infant cry sounds in a sample of mothers with a diagnosis of PND. We found no effect of OT on maternal sensitivity. The finding of increased intended harsh caregiving is important and we should fully explore this association prior to using OT as a pharmacotherapy to enhance parental capacity, especially in a depressed population, as we may induce an iatrogenic effect.
Acknowledgments
MHvIJ and MJBK are funded by the Netherlands Organization for Scientific Research (MHvIJ: NWO SPINOZA prize; MJBK: VICI Grant No. 453-09-003), the European Research Council (MJBK: ERC AdG 669249) and by the Gravitation program of the Dutch Ministry of Education, Culture, and Science.
Open Access
This article is distributed under the terms of the Creative Commons Attribution 4.0 International License (
http://​creativecommons.​org/​licenses/​by/​4.​0/​
), which permits unrestricted use, distribution, and reproduction in any medium, provided you give appropriate credit to the original author(s) and the source, provide a link to the Creative Commons license, and indicate if changes were made.