21-12-2015 | Original Article | Uitgave 2/2016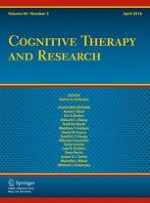 The Effects of Attention Training on Health Anxiety: An Experimental Investigation
Tijdschrift:
Auteurs:

Julia Schwind, Maria Gropalis, Michael Witthöft, Florian Weck
Abstract
According to cognitive-behavioural theories, attentional biases, especially increased symptom-focused attention, are crucial for the maintenance of health anxiety. Therefore, the attention training technique (ATT) seems to be a promising approach in reducing body-focused attention and hypochondriacal fears in people with high health anxiety. However, previous research has never implemented ATT on its own but always in combination with psychoeducation. The present study experimentally investigates the isolated impact of ATT on self-reported body-focused attention, health anxiety, and attentional bias towards health threatening stimuli. Fifty-four students with elevated health anxiety were randomised into the following conditions: attention training group (ATG), which received ATT; ATG
body
, which received a variation of ATT that focused on training attention towards the body; and a control group without intervention. The ATG and ATG
body
spent 1 week actively practicing the trainings. Before and after the training phase, we assessed the self-report measures, and attentional bias by using the Emotional Stroop Task. The ATG displayed no effects on self-report measures of body-focused attention or health anxiety. Against our expectations, the ATG
body
experienced a significant decrease in the attentional bias (
p
= .001, Cohen's d = 0.93). Attention training towards the body in people with elevated health anxiety might, therefore, be beneficial in reducing illness-related attentional bias.