02-05-2018 | ORIGINAL PAPER | Uitgave 6/2018 Open Access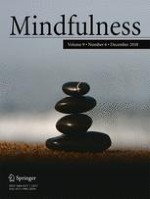 The Effects of an Online Mindfulness Intervention on Perceived Stress, Depression and Anxiety in a Non-clinical Sample: A Randomised Waitlist Control Trial
Tijdschrift:
Auteurs:

Dawn Querstret, Mark Cropley, Chris Fife-Schaw
Abstract
Mindfulness interventions have been shown to be effective for health and wellbeing, and delivering mindfulness programmes online may increase accessibility and reduce waiting times and associated costs; however, research assessing the effectiveness of online interventions is lacking. We sought to: (1) assess the effects of an online mindfulness intervention on perceived stress, depression and anxiety; (2) assess different facets of mindfulness (i.e. acting with awareness, describing, non-judging and non-reacting) as mechanisms of change and (3) assess whether the effect of the intervention was maintained over time. The sample was comprised of 118 adults (female,
n
 = 95) drawn from the general population. Using a randomised waitlist control design, participants were randomised to either an intervention (INT) or waitlist control (WLC) group. Participants completed the online intervention, with the WLC group starting after a 6-week waitlist period. Participants completed measures of depression (PHQ-9), anxiety (GAD-7) and perceived stress (PSS-10) at baseline, post-treatment, 3- and 6-month follow-up. Participants who completed the mindfulness intervention (
n
 = 60) reported significantly lower levels of perceived stress (
d
 = − 1.25 [− 1.64, − 0.85]), anxiety (
d
 = − 1.09 [− 1.47, − 0.98]) and depression (
d
 = − 1.06 [− 1.44, − 0.67]), when compared with waitlist control participants (
n
 = 58), and these effects were maintained at follow-up. The effect of the intervention was primarily explained by increased levels of non-judging. This study provides support for online mindfulness interventions and furthers our understanding with regards to how mindfulness interventions exert their positive effects.