Gepubliceerd in: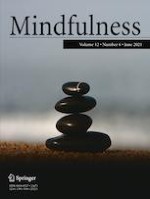 22-03-2021 | ORIGINAL PAPER
The Effects of a Self-Compassion Intervention on Future-Oriented Coping and Psychological Well-being: a Randomized Controlled Trial in Chinese College Students
Gepubliceerd in: Mindfulness | Uitgave 6/2021
Log in om toegang te krijgen
Abstract
Objectives
Future-oriented coping and self-compassion have demonstrated promising benefits for psychological well-being, but the effects of self-compassion interventions have not been adequately examined in Chinese samples. Moreover, the role of self-compassion in enhancing future-oriented coping remains unclear. This study aimed to test the effects of a group-based self-compassion intervention on future-oriented coping and psychological distress with a randomized controlled trial using a sample of Chinese college students.
Methods
A total of 69 participants were randomized into an intervention group (
N
= 32) and a waitlist-control group (
N
= 37). Self-compassion (including positive and negative self-compassion), future-oriented coping (including proactive coping and preventive coping), and psychological distress (depression, anxiety, and stress) were assessed at the baseline, postintervention, and 1-month follow-up.
Results
The intervention group evidenced an increase in self-compassion and future-oriented coping as well as a decrease in depression and stress compared to the control group. The enhancement of proactive coping played a mediating role in the intervention's effects on depression and stress.
Conclusions
This study provided evidence regarding the effects of self-compassion intervention on future-oriented coping. Future studies can further investigate the role of proactive coping as a mechanism of change in self-compassion interventions.