01-12-2019 | Review | Uitgave 1/2019 Open Access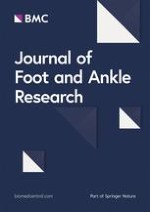 The effectiveness of non-surgical interventions for common plantar digital compressive neuropathy (Morton's neuroma): a systematic review and meta-analysis
Tijdschrift:
Auteurs:

Barry G. Matthews, Sheree E. Hurn, Michael P. Harding, Rachel A. Henry, Robert S. Ware
Belangrijke opmerkingen
Electronic supplementary material
Abbreviations
ESWT
Extracorporeal shockwave therapy
NHMRC
Australian National Health and Medical Research Council
PICOS
Population, intervention, comparison, outcome and study type
PRISMA
Preferred reporting items for systematic reviews and meta-analyses
RCT
Randomised controlled trial
Background
Methods
Results
Discussion
This systematic review evaluated non-surgical interventions for MN, including a wide range of study types to assist clinicians in their evidence-based management of MN and to inform the future direction of research. The review identified seven RCTs [
3
,
39
–
41
,
48
,
50
,
52
] and 18 case series [
1
,
2
,
4
–
10
,
19
,
20
,
22
,
23
,
49
,
51
,
53
–
55
] with only one high quality RCT [
39
]. Meta-analysis of two RCTs [
39
,
41
] found that corticosteroid injection decreased pain more than control. One RCT [
3
] showed that corticosteroid injection was superior to footwear and padding when measuring treatment success. Manipulation/mobilisation demonstrated some efficacy when compared to control at 6 weeks in another RCT [
48
]. Several case series found a reduction in pre/post pain with sclerosing injections [
5
,
7
,
8
,
19
,
20
,
23
,
55
], radiofrequency ablation [
9
,
10
,
53
], cryoneurolysis [
49
,
51
], and Botox injection [
6
] but these results should be interpreted with caution. No statistically significant reduction in pain was demonstrated by an RCT [
52
] investigating ESWT compared to control or by another RCT [
50
] comparing varus/valgus foot wedges.
The meta-analysis of corticosteroid injections combined two RCTs [
39
,
41
] which varied in follow-up (3 vs 6 months), number of injections (1 vs 3) and guidance during injection (UG vs NUG). Six of the studies [
1
,
3
,
22
,
40
,
41
,
54
] had a 6 month or longer follow-up and only one study [
39
] had a 3 month follow-up (seven studies in total). It is not known whether combining a 3 month difference in follow-up periods affects the quality of the analysis. Five of the seven included studies used one injection [
1
,
22
,
39
,
54
,
56
], however two published treatment pathways for MN [
26
,
30
] state that up to three injections are typically given. Thomas et al. [
25
], reports multiple injections obtain better results, however this statement is based on low quality studies [
3
,
4
,
59
–
61
]. There is no high-quality evidence for the number of injections or if multiple injections influence the effect size more than one injection. Mahadevan et al. [
40
], demonstrated there was no statistically significant difference between UG and NUG corticosteroid injections when a trained clinician administered the NUG injection (Figs.
4
and
5
). This finding was used to justify combining the two RCTs [
39
,
41
] for the meta-analysis. Neuroma diameter may be a factor in the small reduction in pain reported by the corticosteroid meta-analysis. Mahadevan et al. [
56
], found that people with neuroma with a transverse diameter larger than 5 mm had worse pain scores by 6 months post injection compared to those with a smaller neuroma. The mean transverse diameter for Thomson et al. [
39
], was 9.6 mm and Lizano-Diez et al. [
41
], was 8 mm which were both larger than 5 mm. The follow-up period and number of injections are differences which should be considered when interpreting the small effect size reported in the meta-analysis (Fig.
3
).
One RCT of manipulation/mobilisation [
48
] had the largest mean difference of the included RCTs in the review (Fig.
4
). The short follow-up period (1.5 months) compared to the follow-up mean of all the included studies in the review (9.9 months) suggests the result should be interpreted with caution. The intervention involved several manipulations/mobilisations including dorso/plantar glides of one metatarsal relative to the next and distraction and/or plantarflexion of the metatarsophalangeal joints. The common plantar digital nerve is surrounded by concentric layers of fibrous and loose connective tissue which creates a protective tunnel for the nerve to move independently of the surrounding tissue during gait [
62
]. A proposed pathological process involves the connective tissue becoming thickened and fibrotic in Morton's neuroma [
63
] changing the protective tunnel into a nerve entrapment with ischemia [
62
]. Manipulation/mobilisation may reduce pain by decreasing the stiffness in the connective tissue surrounding the nerve.
The studies assessing footwear and padding [
3
,
4
] are of low methodological quality demonstrating small success rates and one RCT [
3
] showed corticosteroid injections to be more successful than footwear and padding, however it should be considered that there are no adverse events reported with footwear and padding. A metatarsal pad is shaped to fit the plantar aspect of the foot, proximal to the metatarsal heads at the distal border, medially and laterally to the first and fourth intermetatarsal spaces respectively and proximal to the metatarsal bases with the pad thickness reducing distal to proximal and toward the medial and lateral borders. Prefabricated or custom foot orthoses may incorporate a metatarsal pad.
The included sclerosing injection case series [
5
,
7
,
8
,
19
,
20
,
23
,
55
] encompassed varying frequency of injections (1 to 9 injections over a period of up to 3 months) and review periods (6 to 55 months). While the WMD in pain scores and WSR were high (Figs.
6
and
7
), the treatment and review variability coupled with only uncontrolled pre/post data provides low quality evidence and an RCT is required to confirm these findings. Three published treatment pathways include sclerosing injections as a second stage intervention [
25
,
26
,
28
], while another three report concern about the lack of high quality evidence [
27
], adverse events [
29
,
30
] or the lack of long term treatment success leading to surgery [
29
,
30
]. Pain during and post injection for up to 21 days was a common short-term adverse event, but no long-term adverse events were reported from 1040 participants with a mean 14.9 months (range 6 to 55) review period. Failure of the sclerosing injection to substantially reduce pain in either the short or long term resulted in 177 (17%) participants progressing to surgical excision.
Three pre/post case series investigating radiofrequency ablation [
9
,
10
,
53
] found a large reduction in pain (WMD: -51.7; 95%CI: -77.1 to − 26.3) (Fig.
6
) but an RCT is required to confirm these findings. While radiofrequency ablations have been investigated previously, they have not been included in treatment pathways to date because participants in previously identified radiofrequency ablation studies concurrently received a corticosteroid injection, which made it difficult to separate the benefits of the two interventions [
30
]. The three new pre/post case series [
9
,
10
,
53
] included in this systematic review are not confounded by additional interventions and demonstrate pain reduction with no long-term adverse events reported.
Kilmartin and Wallace [
50
], assessed a varus felt wedge to supinate the foot verses a valgus felt wedge to pronate the foot, and reported no statistically significant reduction in pain with either type of wedge. The study tests the hypothesis that a supinated subtalar joint would reduce forefoot abduction, reducing MN compression and pain. This hypothesis, based on the Root model of foot function, assumes that pronation of the foot during the propulsive phase of gait causes the metatarsals to become unstable, resulting in the metatarsal heads moving laterally, causing a shear force on the plantar soft tissues, resulting in a MN [
64
]. The current understanding is that foot orthoses alter the magnitude, timing, and velocity of motion in the foot. In addition to altering kinematics, foot orthoses also alter plantar pressures, muscle activity and kinetics, which can be used to reduce stress on targeted tissues with the intention of reducing the risk of tissue damage [
65
–
68
]. The term orthosis used in the study [
50
] does not represent the current understanding of foot or orthosis function. Therefore, the term "varus/valgus foot wedge" has been used in this review to represent the intervention used in Kilmartin and Wallace's study. No studies assessing the effect of orthoses on foot function related to MN were found by the review.
This systematic review provides the most current and comprehensive assessment of non-surgical interventions for MN published to the best of the authors' knowledge. Clinicians and researchers may use the findings as an evidence-based summary to help guide their clinical management and research. The results however, should be interpreted while considering the following limitations. The review only searched for and included studies published in English, excluding non-English language publications. A 2009 RCT comparing ESWT to sham ESWT was not included in this review as the participants mean age and range was not reported [
69
]. Including this RCT may have altered the results from the data analysis. The Johnson scale [
57
] was collapsed into binary data, by classifying "satisfied" as success. Regrouping binary data with "satisfied" and "satisfied with minor reservations" as success would increase the success rates reported and modify the results. There is no published minimal important difference for MN interventions. Therefore, it is unknown whether the small effect sizes reported by RCTs are clinically meaningful. Where enough studies were pooled to calculate an
I
2
statistic with pre/post continuous (Fig.
6
) or binary (Fig.
7
) outcomes, the values ranged from 79.9 to 99.5%. Higgins et al. [
43
], showed about a quarter of the meta-analyses in the Cochrane database of systematic reviews have
I
2
values over 50%. Values over 75% have tentatively been assigned as having high levels of heterogeneity [
43
]. Where
I
2
values were calculated in this systematic review for pre/post data there were high levels of heterogeneity.
High quality experimental studies investigating non-surgical treatments for MN are lacking [
30
,
32
,
39
], although there has been a small number of RCTs recently published [
40
,
41
,
52
]. In particular, future RCTs are needed to evaluate the effectiveness of sclerosing injections, radiofrequency ablations and cryoneurolysis, in order to confirm findings from low quality case series. Using a randomised study design where an intervention group is compared with a control group allows researchers to measure the causal benefit of the intervention. That is, the effect of intervention beyond any placebo effect a sham treatment may have, or beyond any natural improvement with time, which cannot be determined in a pre/post case series. The identification of a minimal important difference for pain improvement [
70
] would be informative to help clinicians and researchers understand the minimum worthwhile improvement patients report, replacing the range of values demonstrated across three RCTs included in this review [
39
–
41
]. When designing experimental studies, consideration should be given to consistent review periods (1, 6 and 12 months), validated outcome measures and the CONSORT guidelines [
71
] to allow the combining of RCTs for high quality meta-analyses of interventions with the same therapeutic mechanism.
Conclusions
This review found some evidence of pain reduction following corticosteroid injection or manipulation/mobilisation techniques for MN. However, no high-quality evidence currently exists to inform which intervention should be the gold standard for first- or second-line non-surgical treatments. Further high quality RCTs are warranted to provide a solid evidence base for non-surgical treatment of MN.
Acknowledgements
Jennifer Thomas, Queensland University of Technology Library Liaison; for her assistance in designing the search strategy. Adele Thomas for her assistance in translating Filippo Civinini's 1835 anatomy paper from Italian into English.
Availability of data and materials
Data sharing not applicable to this article as no datasets were generated or analysed during the current study.
Ethics approval and consent to participate
Not applicable.
Consent for publication
Not applicable.
Competing interests
The authors declare that they have no competing interests.
Publisher's Note
Springer Nature remains neutral with regard to jurisdictional claims in published maps and institutional affiliations.
Open Access
This article is distributed under the terms of the Creative Commons Attribution 4.0 International License (
http://​creativecommons.​org/​licenses/​by/​4.​0/​
), which permits unrestricted use, distribution, and reproduction in any medium, provided you give appropriate credit to the original author(s) and the source, provide a link to the Creative Commons license, and indicate if changes were made. The Creative Commons Public Domain Dedication waiver (
http://​creativecommons.​org/​publicdomain/​zero/​1.​0/​
) applies to the data made available in this article, unless otherwise stated.