10-08-2020 | Original Article | Uitgave 6/2021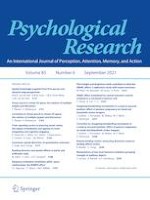 The effect of self-selecting the number of repetitions on motor performance and psychological outcomes
Tijdschrift:
Auteurs:

Aviv Emanuel, Itai Har-Nir, Isaac Isur Rozen Smukas, Israel Halperin
Belangrijke opmerkingen
Electronic supplementary material
Publisher's Note
Springer Nature remains neutral with regard to jurisdictional claims in published maps and institutional affiliations.
Abstract
In resistance-training, the number of repetitions can be either fixed and predetermined (e.g., 3 sets of 10 repetitions), or selected by the trainee during ongoing sets (e.g., 3 sets of 8–12 repetitions). The first approach is more goal-focused while the latter is more autonomy-focused. Here we compared these two approaches in motor performance and psychological outcomes. Nineteen resistance-trained participants (10-males) first completed one repetition-maximum (RM) tests in the barbell-squat and bench-press, and were familiarized with the isometric mid-thigh pull (IMTP). In the next two counterbalanced sessions, participants completed two sets of the squat and bench-press using 70%1RM, and two sets of the IMTP. In the predetermined session, participants completed 10 repetitions in all sets, and in the self-selected session, participants chose how many repetitions to complete out of an 8–12 range. Bar-velocity was measured in the squat and bench-press, and force production in the IMTP. Enjoyment, perceived-autonomy, and approach-preferences were collected post-sessions. We observed comparable bar-velocity, force production, and enjoyment in both conditions (all BF01 > 2.1), and an even approach-preferences split. However, in the self-selected condition, participants demonstrated considerable variability in the number of repetitions and reported greater perceived-autonomy. Given the similarities between approaches, both can be used with this cohort based on their personal-preference.