01-02-2017 | Commentary | Uitgave 1/2017 Open Access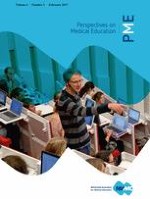 The discomfort of an educator's critical conscience: the case of problem-based learning and other global industries in medical education
Tijdschrift:
Auteurs:

Janneke M. Frambach, Maria Athina (Tina) Martimianakis
Halman, Baker and Ng's article [
1
] on critical consciousness captured our attention as scholars interested in engaging in educational practices that are dynamic and stay responsive to local needs. We expound on ways in which it has made us think about our practice, specifically in the face of globalization in health professions education. We argue that our practice as health professions educators is inextricably linked to a global industry of health professions education, which comes with a potentially discomforting message.
Critical consciousness: a pedagogy for students and teachers
The social and political determinants of global medical education
Moving from reflection to praxis
The first author is involved in the global industry of PBL as both a researcher and a trainer of PBL, as are many of her colleagues. How critical can and does she want to be about promoting PBL as an educational approach? Which actions can and does she want to take, knowing the role PBL plays in hers and others' academic and professional careers, her employer's global reputation, and revenues of an entire industry? She might design her PBL trainings differently; publish critical research on PBL and its globalization; open up space to discuss alternative approaches with PBL customers; consider referring them to other institutions; collaborate with smaller players to create joint training offers that reflect contextual diversity; reverse the flow of training and consultancy fees by participating in trainings offered by less well-known institutions; work within her institution to engage PBL faculty and students in critical reflection; and advocate for these issues among powerful educational leaders inside and outside her institution.
The second author is an education researcher working in a clinical department. Often she is faced with the difficult task of pointing to ways in which the day-to-day educational practices of her colleagues, and her own, inadvertently create inequities or marginalize perspectives. She might ask pointed questions during meetings; refuse to engage in an activity she sees as problematic; challenge her colleagues to disrupt routine practices and create forums for discussing alternative ways of thinking or acting. However, it's one thing to speak about inequities in the abstract, and quite another to draw attention to local activities one finds problematic, while maintaining a productive role in the organization that pays your salary. The potential anxiety captured within such actions, 'may paradoxically trigger emotionally distancing reactions and become a barrier to engagement' [
1
]. Meaning, when it really comes to our own position and privilege, we often prefer to stay quiet and go with the flow. From our own experience, we want to acknowledge that reform from within is effortful and requires sacrifices. For example, there are many instances in the second author's day that she engages in educational activities that contribute to the 'selling' and/or transmission of Canadian knowledge products around the world. While she may not always agree with the premise of this work, she engages in it with the goal and the hope of having future opportunities to contribute to reform from within.
It is obvious that critical consciousness will not come to us easily. On top of the already complex issues of embedding critical pedagogy within current curricula and providing course-level guidance, it involves first and foremost willingness from our part to ask painful questions, confront discomforting answers and take disruptive actions. Personally, we would love to proclaim that we are critically conscious educators, but the truth is that we have not measured up in all situations, as this would personally jeopardize our capacity to stay active as educators in our respective fields. We cannot ask our students to engage in critical consciousness alone, who, as also Halman et al. [
1
] note, are often in even more precarious positions than we are. They need us to be their role models. Critical consciousness, by definition, is a dangerous, uncomfortable educational practice that only works if we never expect it to become a safe practice. We still have a long way to go before we can declare that our field can engage in productive negotiations around what constitutes the 'right' way to educate health professionals. But we note that the time and space required for such negotiations is not outside our reach, and the steps outlined by Halman et al. are an important starting point for improving the quality of our educational programs.
Open Access
This article is distributed under the terms of the Creative Commons Attribution 4.0 International License (
http://​creativecommons.​org/​licenses/​by/​4.​0/​
), which permits unrestricted use, distribution, and reproduction in any medium, provided you give appropriate credit to the original author(s) and the source, provide a link to the Creative Commons license, and indicate if changes were made.