01-11-2009 | Empirical Research | Uitgave 10/2009 Open Access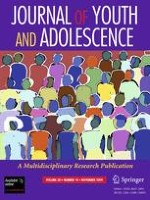 The Developmental Significance of Adolescent Romantic Relationships: Parent and Peer Predictors of Engagement and Quality at Age 15
Tijdschrift:
Auteurs:

Glenn I. Roisman, Cathryn Booth-LaForce, Elizabeth Cauffman, Susan Spieker, The NICHD Early Child Care Research Network
Belangrijke opmerkingen
This study is directed by a Steering Committee and supported by NICHD through a cooperative agreement (U10), which calls for scientific collaboration between the grantees and the NICHD staff. The content is solely the responsibility of the named authors and does not necessarily represent the official views of the
Eunice Kennedy Shriver
National Institute of Child Health and Human Development, the National Institutes of Health, or individual members of the Network.
Abstract
From a longitudinal sample (
n
= 957; 49.9% male; 77.3% White/non-Hispanic) of participants studied from infancy through age 15, adolescents' depth of engagement in, and quality of romantic relationships were predicted from early and contemporaneous parent–child interactive quality and peer social competence. High quality maternal parenting and peer experiences prior to and during adolescence tended to be negatively associated with the depth of engagement in this domain for the full sample, yet positively associated with the quality of adolescents' romantic relationships for the sub-set of individuals currently dating at age 15. Results reconcile contrasting views of the origins of romantic relationship engagement and quality and the positive versus negative developmental salience of romantic relationships in adolescence.