01-09-2018 | Instrument development | Uitgave 7/2018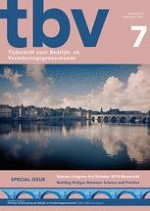 The development of a common understanding regarding terms used in social insurance, disability and insurance medicine across Europe – the Babylon project
Auteurs:

Nerys Williams, Gert Lindenger
Samenvatting
Each country in Europe has its own unique system for the assessment of claimants for social security, disability and other insurance benefits. This variability can make it difficult to understand the systems that other countries use and thus hinder research and study, particularly when comparing the different systems. When benchmarking across countries, misunderstandings may occur due to the fact that when a person wants to express something they will try to find the appropriate English technical term from the reference point of their country's system. But the receiver of the information from another country may interpret the term from their understanding of their own country's system. Therefore, technical terms used in this specialist area of medicine would benefit from an English written definition, to avoid such misunderstandings as far as possible.
This paper describes a project, called the 'Babylon Project' which was devised and undertaken by EUMASS/UEMASS (European Union of Medicine in Assurance and Social Security/
Union Européenne de Médecine d'Assurance et de Sécurité Sociale
), a group of specialist insurance physicians in Europe.