01-06-2010 | Uitgave 5/2010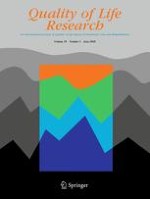 The development of a clinical outcomes survey research application: Assessment CenterSM
Tijdschrift:
Auteurs:

Richard Gershon, Nan E. Rothrock, Rachel T. Hanrahan, Liz J. Jansky, Mark Harniss, William Riley
Abstract
Introduction
The National Institutes of Health sponsored Patient-Reported Outcome Measurement Information System (PROMIS) aimed to create item banks and computerized adaptive tests (CATs) across multiple domains for individuals with a range of chronic diseases.
Purpose
Web-based software was created to enable a researcher to create study-specific Websites that could administer PROMIS CATs and other instruments to research participants or clinical samples. This paper outlines the process used to develop a user-friendly, free, Web-based resource (Assessment CenterSM) for storage, retrieval, organization, sharing, and administration of patient-reported outcomes (PRO) instruments.
Methods
Joint Application Design (JAD) sessions were conducted with representatives from numerous institutions in order to supply a general wish list of features. Use Cases were then written to ensure that end user expectations matched programmer specifications. Program development included daily programmer "scrum" sessions, weekly Usability Acceptability Testing (UAT) and continuous Quality Assurance (QA) activities pre- and post-release.
Results
Assessment Center includes features that promote instrument development including item histories, data management, and storage of statistical analysis results.
Conclusions
This case study of software development highlights the collection and incorporation of user input throughout the development process. Potential future applications of Assessment Center in clinical research are discussed.