Gepubliceerd in: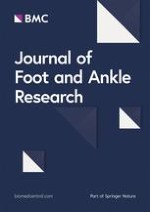 Open Access 01-12-2019 | Review
The changing landscape of professional practice in podiatry, lessons to be learned from other professions about the barriers to change – a narrative review
Gepubliceerd in: Journal of Foot and Ankle Research | Uitgave 1/2019
Abstract
Background
The delivery of healthcare is changing and aligned with this, the podiatry profession continues to change with evidence informed practice and extending roles. As change is now a constant, this gives clinicians the opportunity to take ownership to drive that change forward. In some cases, practitioners and their teams have done so, where others have been reluctant to embrace change. It is not clear to what extent good practice is being shared, whether interventions to bring about change have been successful, or what barriers exist that have prevented change from occurring. The aim of this article is to explore the barriers to changing professional practice and what lessons podiatry can learn from other health care professions.
Main body
A literature search was carried out which informed a narrative review of the findings. Eligible papers had to (1) examine the barriers to change strategies, (2) explore knowledge, attitudes and roles during change interventions, (3) explore how the patients/service users contribute to the change process (4) include studies from predominantly primary care in developed countries.
Ninety-two papers were included in the final review. Four papers included change interventions involving podiatrists. The barriers influencing change were synthesised into three themes (1) the organisational context, (2) the awareness, knowledge and attitudes of the professional, (3) the patient as a service user and consumer.
Conclusions
Minimal evidence exists about the barriers to changing professional practice in podiatry. However, there is substantial literature on barriers and implementation strategies aimed at changing professional practices in other health professions. Change in practice is often resisted at an organisational, professional or service user level. The limited literature about change in podiatry, a rapidly changing healthcare workforce and the wide range of contexts that podiatrists work, highlights the need to improve the ways in which podiatrists can share successful attempts to change practice.
Background
The aim of this article was to explore the barriers to changing professional practice in healthcare and whether the lessons learnt could be applied to the profession and practice of podiatry.
Methods
A literature search was carried out which informed a narrative review of the findings. The inclusion criteria were publications in the English language literature, using the search terms "behaviour change", "podiatry", "professional practice", "barriers to change", "professional boundaries" and "interventions" from 2008 to March 2018. Searches were carried out using Scopus, MEDLINE, PubMed, Springerlink, CINAHL, The Cochrane Library, Wiley online library, Oxford University press, British Nursing Index, SAGE journals, SCIverse, directory of open access journals (DOAJ). Reference lists of identified articles; the indexes of journals from which articles were retrieved and key reviews were also searched. An initial search revealed a paucity of literature related to changing professional podiatry practice. The search criteria were therefore widened to include other health care professions. A number of systematic reviews have stated the difficulty in searching this area are due to its broad nature, the literature being in both generalist and specialist publications and being poorly indexed in bibliographical databases [
24
,
40
].
Papers considered eligible for inclusion had to (1) examine the barriers to change strategies in a healthcare setting, (2) explore knowledge, attitudes and roles during change interventions, (3) explore how the patients/service users contribute to the change process (4) include studies from predominantly primary care in developed countries.
Quantitative studies were included if they were primary research investigating the barriers and facilitators to changing professional practice published in English. Qualitative studies that focused on broader questions were included if changing professional practice and/or service user contribution to influence change was a clear focus of at least one aspect of analysis.
Results
A total of 92 articles were included in the final narrative review with the results organised into themes. This included 13 nursing texts, 19 medical texts (medicine and primary care) 6 dental texts, 6 from allied health professional research and 48-health policy, social care and related texts.
Thirteen initial barriers were derived from the literature. These initial barriers were then organised into 3 overarching themes for discussing change (Table
1
).
Table 1
Barriers to change identified in the literature
Barriers to change

Themes to discuss barriers to change

• Poor practice organisation (time constraints/ environment/ clinical setting/ finances).

• Support (Failure to provide access to appropriate information or time for innovation and training).

• Failure of previous change initiatives.

The Organisation

(The existing structures, operations, culture and context of the change environment)

• Individual practice, habits, tradition and personal preferences.

• Knowledge (Unaware of current evidence based practice (EBP), obsolete clinical knowledge/ skills/ inappropriate professional development (CPD)).

• Aware guidance has changed but unaware of how to adopt change or how to access new evidence.

• Fear (clinical uncertainty/ loss of professional identity/ autonomy/ inability to perform as well in the new situation.

• Inadequate training, communication and preparation for the change effort.

• Lack of incentives to participate in effective educational activities or change processes.

The Professional

(Awareness, knowledge and attitudes)

• Demands for care.

• Media influence.

• Perceptions and beliefs about appropriate care.

• Compliance with clinical guidance.

3 – The patient

(As a consumer and a co-producer of care)
Discussion
The literature will be discussed under the three overarching themes identified; the organisation (existing structures, operations, culture and context of the change environment), the professional (awareness, knowledge and attitudes), the patient (as a consumer and a co-producer of care).
The organisation
The awareness, knowledge and attitudes of the professional
The patient as a consumer
The role of the patient to drive change in health care systems is not the norm, but the value of co-production spans the entirety of our healthcare system. On a small scale, factors that in some circumstances may be perceived as barriers to uptake can also act as levers for change. For example, patients may influence practitioners' behaviour towards clinically effective practice by requesting interventions of proven effectiveness. Opinion leaders may also influence practitioners positively, and the media may promote cost-effective interventions. The bigger picture explores the change roles patients have to play in shaping future health care.
Summary
The limitations of the narrative review are that there is a lack of podiatry-centered research. There remain several unanswered questions. We currently have no idea whether podiatrists change their practice, or if they do what it is that they are changing. Nor do we know which area of practice is subject to the most change and why this is so. Further, we do not know what factors are most influential in determining a change or what mechanisms are used to implement change. This review has focused on studies from predominantly primary care in developed countries. With this approach we still need to exercise some caution when drawing comparisons between practices. Although we may all share similar drivers for change, such as ageing populations and the need for greater chronic illness management. We do not necessarily share the same organisational infrastructures and legislative processes within our systems to make this transfer of knowledge an equitable one. These organisational differences have a profound impact on what professions from differing nations can or cannot change.
Lewin's change model includes both drivers of and barriers to change [
30
]. The driving forces are to push the organisation into a state or direction in which the change can occur. Lewin stated that restraining forces (barriers) could hinder change and push the organisation in the opposite direction. Despite the fact that Lewin mentioned restraining forces during the change process, less emphasis is put on identifying them. His focus remained on the change process itself. However without first addressing these forces the change process cannot begin.
To begin any successful change process, you must first start by understanding why the change must take place. Lewin [
30
] stated that, "Motivation for change must be generated before change can occur. One must be helped to re-examine many cherished assumptions about oneself and one's relations to others." This is the unfreezing stage from which change begins [
30
]. To change successfully therefore clinicians are forced to, challenge their beliefs, values, attitudes, and behaviors that currently define their practice. When Lewin's framework is applied to the podiatry profession evidence is in short supply at all 3 stages of his change process. However, there is substantial literature on implementation strategies that overcome barriers to changing professional practice in other health professions. Hence, this review has revealed information about the barriers to change in professional practice and the strategies that can be adopted in order to support effective change within the podiatry profession. This has resulted in this review being a UK centric discussion around change.
Conclusion
Most knowledge of barriers to and incentives for change are not derived from well-designed prospective studies, but rather from observational studies and theoretical reflections. The evidence around difficulties in implementing change has led most experts in healthcare improvement to now emphasise that in order to be most successful, change initiatives must have a compelling vision and provide explicit guidance to organisations, teams and individuals about how to change, rather than just what needs to change.
Effective change has been seen through adoption of a strategic approach to a learning organisation culture that supports and facilitates change with a patient focus. Studies have highlighted that adoption of a learning organisation culture can, stimulate new ideas, develops teamwork, facilitates effective change processes and promotes quality improvement in healthcare. Podiatry needs to explore more participative, multi-faceted and interactive educational approaches that appear to have a greater long-term impact on producing sustained changes in clinical practice.
To deliver bottom-up change, flexibility is required within the system both in terms of the formal organisational structure and day to day processes. Multidisciplinary working and collaboration between peers within and between organisations lead to broader operational and personal benefits. Operationally and personally change programmes can be more effective, collaborative working builds more supportive working relationships, which is essential to improve health outcomes for people and populations. A move towards more multidisciplinary working practices for podiatry could therefore nurture a more positive mind-set and the desire to change.
The influential role of patient's/ service users in the change process, or implementation strategies at the levels of the organisation and wider context is also underexplored in the literature. The podiatry profession should take a variety of steps to ensure that patients and carers are able to act as agents of change as a norm in our practice. This goes beyond traditional patient involvement, to co-production and patient leadership, which requires a paradigm shift in how podiatry services approach patient and carer engagement. This approach relies on professionals who are prepared to listen, share power and to move out of the expert role into a partnership role, [
130
,
131
].
The wide and diverse range of barriers that limit practitioners' ability to change their routine clinical practices need to be addressed. Identifying the domains of podiatric practice necessary for competent practice may provide a framework for ensuring that key skill areas of podiatry can be targeted by change initiatives. A future vision for podiatry would be to encourage an open learning culture in which podiatrist's share successful and unsuccessful attempts to change practice. We have an opportunity to make this cultural shift by teaching and embedding the skills for adaptation and change early on in the undergraduate experiences so that the acceptance of change becomes the podiatrist's cultural 'norm'.
Acknowledgements
Not applicable
Funding
MHB is a member of academic staff and PhD student at the University of Salford. No specific funding has been provided to carry out this review.
Availability of data and materials
The documents and records used for this analysis are fully referenced.
Ethics approval and consent to participate
None required, as the research method was a narrative review of the literature.
Consent for publication
Not applicable.
Competing interests
The authors declare that they have no competing interests.
Publisher's Note
Springer Nature remains neutral with regard to jurisdictional claims in published maps and institutional affiliations.
Open Access
This article is distributed under the terms of the Creative Commons Attribution 4.0 International License (
http://​creativecommons.​org/​licenses/​by/​4.​0/​
), which permits unrestricted use, distribution, and reproduction in any medium, provided you give appropriate credit to the original author(s) and the source, provide a link to the Creative Commons license, and indicate if changes were made. The Creative Commons Public Domain Dedication waiver (
http://​creativecommons.​org/​publicdomain/​zero/​1.​0/​
) applies to the data made available in this article, unless otherwise stated.