01-04-2006 | Uitgave 2/2006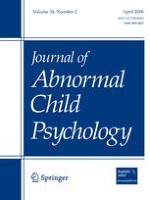 The Best Friendships of Shy/Withdrawn Children: Prevalence, Stability, and Relationship Quality
Tijdschrift:
Auteurs:

Kenneth H. Rubin, Julie C. Wojslawowicz, Linda Rose-Krasnor, Cathryn Booth-LaForce, Kim B. Burgess
The mutual best friendships of shy/withdrawn and control children were examined for prevalence, stability, best friend's characteristics, and friendship quality. Using peer nominations of shy/socially withdrawn and aggressive behaviors, two groups of children were identified from a normative sample of fifth-grade children: shy/withdrawn (
n
= 169) and control (nonaggressive/nonwithdrawn;
n
= 163). Friendship nominations, teacher reports, and friendship quality data were gathered. Results revealed that shy/withdrawn children were as likely as control children to have mutual stable best friendships. Withdrawn children's friends were more withdrawn and victimized than were the control children's best friends; further, similarities in social withdrawal and peer victimization were revealed for withdrawn children and their friends. Withdrawn children and their friends reported lower friendship quality than did control children. Results highlight the importance of both quantitative and qualitative measures of friendship when considering relationships as risk and/or protective factors.