16-02-2016 | Original Paper | Uitgave 7/2016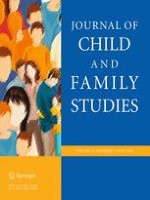 The Association Between Reflective Functioning and Parent–Child Relationship Quality
Tijdschrift:
Auteurs:

Whitney L. Rostad, Daniel J. Whitaker
Abstract
Research consistently links adult and infant attachment styles, yet the means by which attachment is transmitted is relatively elusive. Recently, attention has been directed to the psychological underpinnings of caregiver sensitivity—originally thought to be the mechanism of transmission—as indicated by caregivers' ability to keep in mind children's mental states when interpreting children's behavior, or reflective functioning. Unfortunately for researchers, extant measures of reflective functioning are time-consuming and require extensive observation and coding. A self-report measure could help facilitate the study and assessment of reflective functioning in research and clinical settings. This study investigated the relationship between parental reflective functioning and multiple aspects of the parent–child relationship, by using a new, self-report measure of reflective functioning. Participants were 79 caregivers (
M
age
= 31.8 years) who completed self-report measures assessing reflective functioning, parent–child relationship characteristics, perceived rejection in early relationships, attachment anxiety and avoidance in current close relationships, depression, and substance use. The results indicated that reflective functioning is a strong predictor of parent–child relationship quality (i.e., parental involvement, communication, parent satisfaction, limit setting, and parental support), independent of other potential indicators. Findings support parental reflective functioning as a contributor to the quality of parent–child relationship and suggest that a parent's capacity to reflect on the mental states of his or her child in parent–child interactions may provide a key target for interventions that aim to improve parent–child relationships.