11-09-2019 | Original Paper | Uitgave 12/2019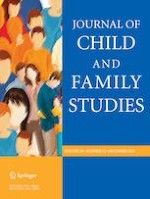 The Assessment of the Attitudes and Behaviors about Physically Abused Children: A Survey of Mental Health Professionals
Tijdschrift:
Auteurs:

Amy J. L. Baker, Steven Miller, William Bernet, Trinae Adebayo
Belangrijke opmerkingen
Publisher's note
Springer Nature remains neutral with regard to jurisdictional claims in published maps and institutional affiliations.
Abstract
Objectives
The purpose of the current study was to assess clinician reports of behaviors and attitudes of physically abused children in order to determine whether they generally behaved in a manner designed to maintain the attachment to the caregiver rather than disrupt the attachment.
Methods
Three hundred and thirty-eight clinicians were surveyed about the attitudes and behaviors of physically abused children. Some clinicians rated a specific severely abused child, some rated severely abused children in general, some rated a specific moderately abused child, and some rated moderately abused children in general. Half of the items on the survey pertained to attachment-enhancing behaviors (caring about the parent's feelings, staying connected the family of the parent, minimizing the harm, and so forth) and half of the items reflected attachment-disrupting behaviors (idolizing the other parent, being rude towards the parent, expressing trivial reasons for being hurt with the parent, and so forth).
Results
For each of the four samples, abused children were rated as expressing significantly more attachment-enhancing behaviors than attachment-disrupting behaviors. They were also found to exhibit more extreme attachment enhancing behaviors than extreme attachment disrupting behaviors. For the most part, characteristics of the rater and the child were not associated with ratings.
Conclusions
Physically abused children were reported to want to maintain relationships with abusive caregivers, which presents challenges as well as opportunities for clinicians working with this highly vulnerable population.