01-06-2012 | Uitgave 2/2012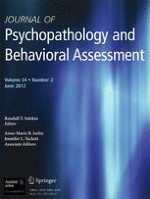 The 10-Item Positive and Negative Affect Schedule for Children, Child and Parent Shortened Versions: Application of Item Response Theory for More Efficient Assessment
Auteurs:

Chad Ebesutani, Jennifer Regan, Ashley Smith, Steven Reise, Charmaine Higa-McMillan, Bruce F. Chorpita
Belangrijke opmerkingen
Adapted from Watson, D. & Clark, L.A. (1999). The PANAS-X: Manual for the Positive and Negative Affect Schedule—Expanded form-Revised. Copyright 1994 by D. Watson and L. A. Clark; all rights reserved. PANAS-X adapted with permission.
Abstract
The Positive and Negative Affect Schedule for Children (PANAS-C/P; child and parent versions) yield positive affect (PA) and negative affect (NA) scales that are clinically useful for identifying youth with anxiety and mood problems. Despite the advantages that item response theory (IRT) offers relative to classical test theory with respect to shortening test instruments, no studies to date have applied IRT methodology to the PANAS-C/P scales. In the present study, we thus applied IRT methodology using a school-based development sample (child sample: N = 799; parent sample: N = 553) and developed a shortened 5-item PA scale (
joyful
,
cheerful
,
happy
,
lively
,
proud)
and a 5-item NA scale (
miserable, mad, afraid, scared, sad
) for the sake of simultaneously increasing the assessment efficiency of the PANAS-C/P scales while improving the psychometric properties of the scales. The reduced PA and NA child scales classified relevant diagnostic groups in a separate clinic-referred validation sample (N = 662) just as well as the original PANAS-C child scales and may be used to help identify youth with internalizing disorders in need of mental health services.