03-03-2017 | ORIGINAL PAPER | Uitgave 5/2017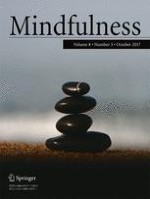 Testing Mindfulness-Based Acceptance Against Implementation Intentions to Discourage Counterintentional Cell Phone Use
Tijdschrift:
Auteurs:

Megan M. Miller, Laura A. Brannon
Abstract
Although college students may recognize that, at some times, cell phone use can be inappropriate (e.g., during a class lecture) or even life-threatening (e.g., while driving), they may still respond to calls or text messages in these situations in order to reap short-term rewards or eliminate uncomfortable thoughts or feelings. This study tested the prediction that mindfulness-based acceptance training may help prevent counterintentional cell phone use among college students. The mindfulness-based intervention was tested against implementation intention planning. Both of these strategies have been successfully used in numerous contexts to help people resist temptations and deal with distracting thoughts or urges. Participants perceived implementation intention planning to be more helpful than mindfulness training with reducing temptation to respond to calls and text messages as well as with reducing distraction caused by the phone. However, compared to control participants who only received a message about the consequences of cell phone distraction, students who received both the message and mindfulness training were significantly less likely to respond to a text message during their class time. Class time texting behavior did not differ significantly between the implementation intention condition and the message-only control condition. Only informing students about the potential negative consequences of cell phone use in certain situations may not be sufficient for preventing counterintentional cell phone use. Teaching students
how
to inhibit this behavior also is important. Mindfulness-based acceptance may be a promising technique to teach students how to prevent class-time cell phone use.