01-12-2013 | Uitgave 4/2013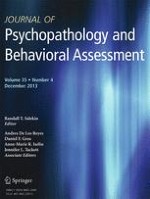 Testing a Hierarchical Model of Distress Tolerance
Auteurs:

Joseph R. Bardeen, Thomas A. Fergus, Holly K. Orcutt
Belangrijke opmerkingen
The views expressed here represent those of the authors and do not necessarily represent the views of the University of Mississippi Medical Center or Department of Veterans Affairs.
Abstract
Distress tolerance (DT) has been suggested as an individual difference factor with transdiagnostic importance. To date, determining the transdiagnostic status of DT has been limited due to the lack of consensus regarding the construct's conceptualization. Zvolensky et al. (Current Directions in Psychological Science 19:406–410,
2010
) developed a hierarchical model of DT that seeks to unify different conceptualizations of DT that have emerged across literatures (i.e., intolerance of uncertainty, ambiguity, frustration, physical sensations, and negative emotional states). Through exploratory and confirmatory factor analyses, the present study provided the first known empirical test of Zvolensky et al.'s hierarchical experiential distress (in)tolerance model in a large community sample of adults (
N
 = 830). Results indicated that the five lower-order DT constructs are factorially distinct. The magnitude of the latent relations among the DT constructs is consistent with the proposition that all five lower-order constructs belong to the same domain. The fit of Zvolensky et al.'s five-factor higher-order model suggests that a higher-order DT construct accounts for the interrelations among the latent factors. Overall, results are consistent with Zvolensky et al.'s hierarchical DT model. Findings provide an important step in clarifying the nature of DT and provide a platform from which cross-study comparisons may be made.